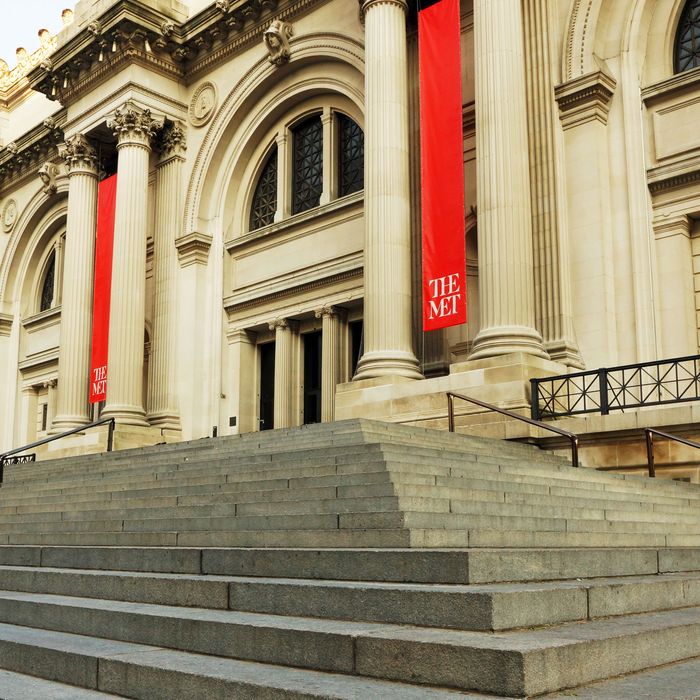 Photo: SergeYatunin/Getty Images
The Met Gala is fashion's biggest night, the Oscars of the rag trade — a chance for the Metropolitan Museum of Art to throw a bash for its Costume Institute and for celebrities to have fun dressing according to a highly specific prompt. Recent themes have ranged from Catholicism to technology to designers like Rei Kawakubo of Commes des Garçons, but in 2020, according to a Thursday announcement, the theme will be … TIME ITSELF.
Titled "About Time: Fashion and Duration," the corresponding museum show is pegged to the Met's 150th anniversary, and will feature approximately 160 pieces from its extensive archive, spanning from 1870 to present. "This exhibition will consider the ephemeral nature of fashion, employing flashbacks and fast-forwards to reveal how it can be both linear and cyclical," said Max Hollein, director of the Met.
Curator Andrew Bolton promises that the exhibit will offer a "disruptive" timeline. So we're not going to get a linear history lesson. Instead, Bolton plans to hop around a bit, offering new and unexpected juxtapositions. A black silk velvet bustle ensemble from the mid-1880s, for example, will be paired with a Comme des Garçons "Body Meets Dress — Dress Meets Body" dress from 1997. The exhibit will conclude with a look at the future of fashion, including a discussion of sustainability.
Taking over for Susan Sontag as "ghost narrator" is none other than Virginia Woolf. Bolton was inspired by the 1992 Sally Potter film Orlando, which was based on Woolf's novel of the same name about a gender-bending poet who lives for 300 years. "There's a wonderful scene," Bolton told Vogue of the film, "in which Tilda Swinton enters the maze in an 18th-century woman's robe à la française, and as she runs through it, her clothes change to mid-19th-century dress, and she reemerges in 1850s England. That's where the original idea [for the exhibit] came from." Oooh! Tilda Swinton time-traveling? Got it. Say no more.
As for the party, co-chairs will be Emma Stone, Meryl Streep, Lin-Manuel Miranda, Louis Vuitton women's creative director Nicolas Ghesquière, and, of course, Anna Wintour. Fingers crossed that Tilda Swinton shows up on the red carpet dressed either as a baby or a 300-year-old version of herself. Will Kim Kardashian West go grey? Do Anna Wintour's powers extend to raising the dead? And for God's sake, who will invite Flavor Flav??
We'll just have to wait until the first Monday in May.