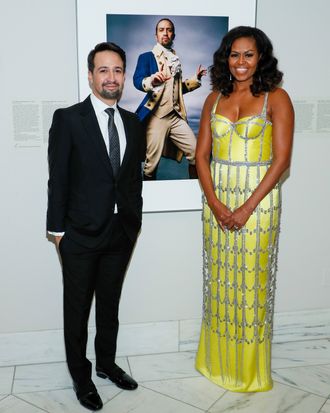 Photo: Paul Morigi/Invision/AP
One good thing that has come from Barack Obama not being in office — maybe the only good thing — is Michelle Obama's experimentation with very sparkly outfits. While she was First Lady, it was her relatable J.Crew cardigans and pretty Jason Wu dresses that made headlines. But now, she's out of the White House and able to be more sartorially daring. She's been leaning into high fashion by breaking out the pant suits and Balenciaga boots. Last night, she made another statement in a custom Schiaparelli haute-couture gown, which was lemon yellow with a glittering cage bustier draped over it.
She wore the dress to the American Portrait Gala, where she presented Lin-Manuel Miranda with his very own portrait. Apologies to Mr. Miranda, but he and his portrait were upstaged by not only Obama but also her cage bustier. Schiaparelli's creative director, Daniel Roseberry, said in a statement that the shape was inspired by crinoline, a stiff petticoat structure used underneath 19th-century dresses. The result was definitely sexier than crinolines of yore, but sure, we'll take it.
This outfit has proved that Obama's best color combination is yellow and sparkle. She wore the thigh-high, $4,000 glitter Balenciaga boots that she casually pulled out on her book tour with a yellow dress. This outfit is almost the same over-the-top color scheme. It will go down in the canon of great Michelle Obama outfits.