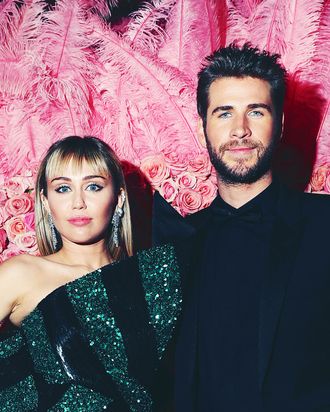 Photo: KEVIN TACHMAN/Getty Images for The Met Museum/
Miley Cyrus and Liam Hemsworth may have split months ago, but it feels like their breakup has lasted 1 MILLION YEARS. To be fair, a lot has happened since then. Cyrus hooked up with Kaitlynn Carter for a hot minute before she began dating fellow singer Cody Simpson, while Hemsworth has been seen with Dynasty actress Maddison Brown and demonstrating his impressive arm strength. Now, the former couple has reached a pivotal stage in their divorce process: the Instagram unfollow.
According to E! News, Cyrus appears to been the first to smash that unfollow button for both her ex-husband and former girlfriend. While Hemsworth returned the favor, Carter currently still follows Cyrus. (The Hills: New Beginnings star also opened up recently about their short-lived romance in an Elle essay, saying that she fell "hard" for Cyrus and that "it just happened and it felt exactly right." )
Cyrus and Hemsworth announced their separation in August after being official for just eight months. The two had met in 2009 on the set of The Last Song, and dated on and off for nearly a decade before getting married during a small ceremony last December. With this Big Unfollow, Hemsworth won't have to witness Cyrus dancing with her new dude, and Cyrus won't be seeing that aforementioned impressive arm strength. All is not lost, though; they both still have photos of each other on their feeds.
One of the weirdest and most annoying things about modern technology is how it has changed the landscape of navigating a breakup or divorce. You go through the act of the breakup itself, but then there are other things to deal with, like the possibility of seeing your ex on a mutual friend's Instagram feed or deciding whether you should unfollow them on social media. It's something a lot of us have to deal with, famous or not. Thanks, internet!