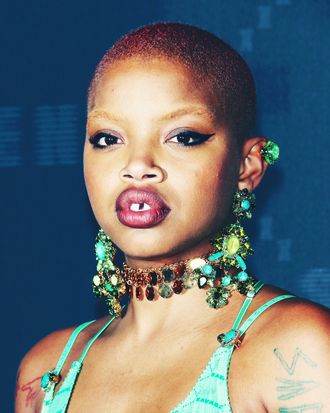 Slick Woods.
Photo: Jim Spellman/Getty Images
Slick Woods, Rihanna's favorite model, has revealed on Instagram that she's undergoing chemotherapy. According to the Shade Room, the 23-year-old confirmed exclusively to them that she has stage-three melanoma cancer. "She says she's currently fighting for her life," the Shade Room wrote. On her own page, Woods is talking about her illness with defiance and a sense of humor. Her announcement just read "How I feel about chemotherapy, shout out to everyone that gotta go through it #atleastimalreadybald."
Taraji P. Henson wrote in the comments, "You are already on the other side of this healthy and strong like it never happened. I adore you🙌🏾🙏🏾💋💋💋." Lala Anthony wrote "love u sis ❤️." Woods made it perfectly clear in her two most recent posts that she does not want to be treated like a victim.
The model is a longtime collaborator with Rihanna. She's the face of Fenty Beauty, and famously went into labor while walking in the first Savage x Fenty runway show. In case you needed more evidence of her approach to adversity, after giving birth to her first son, Saphir, Woods shared a photo of herself on the runway on Instagram and wrote: "A lewk, 14 hours of labor, and A king is born. This is the face of a WOMAN in labor, we hold shit down most of us don't even know how much we're going through, I'm here to say I CAN DO WHATEVER THE FUCK I WANT WHENEVER THE FUCK I WANT AND SO CAN YOU. Thank you @qualityresusqueen and the Fenty family for taking such good care of us." We're all wishing Woods a speedy recovery.