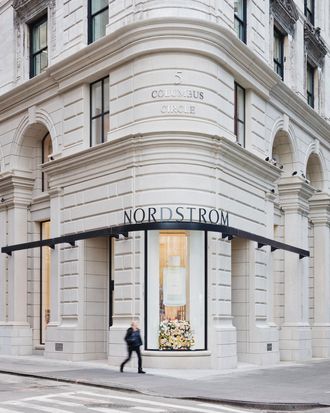 Photo: Connie Zhou/Courtesy Nordstrom
At the top of the escalator in the new Nordstrom flagship on 57th Street is a pair of Manolo Blahnik pumps. You know the ones: those bedazzled blue satin heels Carrie Bradshaw made famous. Sitting there, front and center, they serve as a strategic reminder that New York department stores were once the stage of fantasy. To shop here was to participate in the dream of living here, because living here meant that you were endlessly, thrillingly in pursuit of the unconventional.
At least, that's what I've been told. New Yorkers are still enthusiastic shoppers, of course. But thanks to the rise of online shopping, a decades-long influx of chain stores, and the slow toppling of department-store dynasties, the city's retail landscape — and the city itself — has arguably lost its luster. (And so have those shiny Manolos, I have to say.) Instead, the new narrative is that we've buried ourselves in a pile of Amazon boxes and settled for products like "milky jelly." Somehow, we've become just like everyone else.
Enter Nordstrom, a store with a little bit of everything for everyone. The Seattle-based retailer opened its first New York flagship, a brand-new 320,000-square-foot store that took seven years of planning, on 57th and Broadway this October. Unlike Barneys, the recently toppled temple for the "cultural elite," Nordstrom is unpretentious and accessible. The space is bright and welcoming, with a façade made entirely of glass and an open floor plan displaying 10,000-some handbags, 100,000 pairs of shoes, and 6,000 pairs of jeans. On opening day, a merchandising executive told a group of reporters with pride that the store carries everything from "Converse to Celine."
Of course, most New Yorkers knew this already, because most New Yorkers aren't actually from New York. They grew up shopping at Nordstrom stores with their friends and family and are likely coming to the space with a built-in sense of nostalgia. They know, for example, that you can return basically anything — "even a Starbucks cup," one friend joked — because the company's customer service is so accommodating. (This seems like a liability to me, but I am in the minority as someone who'd never been.)
When I finally entered Nordstrom on opening day a few weeks ago, I was shocked to see just how many stylish New Yorkers showed up for the occasion. Many were the kind of well-put-together older women I'd expect to find at Barneys, Saks, or Bergdorf Goodman. At Nordstrom, though, they were encouraged to browse the brands their grandkids follow on Instagram, in addition to classics like Max Mara teddy-bear coats. I watched one woman try on a faux-shearling coat by the young Danish label Ganni, for example, in an Instagram-friendly Ettore Sottsass mirror. Another group eyed some Junya Watanabe muumuus as ASAP Ferg played over the loudspeakers. They were all mingling about in "SPACE," a curated area on the third floor dedicated to emerging and "advanced" designers, like Marine Serre and Comme des Garçons, whose names you might find at Dover Street Market. (Next to names you would find on Need Supply, like Ganni.)
After about 30 minutes in the store, I started to wonder if these women were lured to Nordstrom by the equally stylish store clerks, who migrated there from other retailers, like Barneys. I spotted one male employee with a blue beard, for example, and another in head-to-toe Simone Rocha — even his earrings. The company later confirmed that it had hired some 1,200 employees for the flagship, with a mix of veterans from around the country as well as transplants from other New York stores. I chatted with a few of them, and they seemed genuinely happy with their new home. Their enthusiasm made me realize just how rare it is to be sold a pair of shoes by someone who's equally as excited about them. It makes a huge difference.
The following week, when the store was much quieter (and the flashier employees seemed to have the day off), I approached one shopper in a leopard-print coat, whom I'd spotted asking an employee if they thought a pair of Chloé rain boots would "work in the snow." Her name was Jeanie, and she looked like someone who knew her way around a department store. She's based in Providence, she told me, but is a Saks regular whenever she visits New York. "For me, I don't think one would necessarily preclude the other," she said when I asked her if her experience at Nordstrom was superior. "But it's nice to have a comparison."
I appreciated this attitude. Old-school loyalists deserve some respect, too, but with so many options out there now, it's hard to imagine living a life where you buy everything in one place. I certainly don't. If Barneys was for the "man who knows," then Nordstrom is for a more agnostic shopper — someone who is inspired to pair Tory Burch with an Undercover x Suspiria x Tilda Swinton coat, or a beaded Susan Alexandra bag with a crystal Simon Rocha headband. Someone who isn't confused by a Barneys inside a Saks. Today, the definition of "good taste" has arguably been expanded, along with the resources we have to pull it from. No one can "know" it all.
My only worry with Nordstrom is that with range might come a loss of specificity — the strangeness that reminds you you're in New York and not anywhere else in the world. The store's Rachel Comey section, for example, which is next to Tibi on the fourth floor, does not include the freakier pieces you might find in the Soho store or at a place like Totokaelo (another Seattle-born company). When I visited, I tried on what felt like every style of AGOLDE jeans, but I want the matcha-colored ones, which were not on the floor.
That's just me, though. I can see Nordstrom being an easy, convenient place for someone of any age to find solid staples (far more convenient than Hudson Yards) and learn about a new, trendy brand along the way. Its range is unique, and there are more-curated areas selling exclusive products, like the Nike sneaker nook, which is underneath a sleek Burberry pop-up. There are also plenty of "experiences," like on-site denim customization. And I was pleasantly surprised to find Eckhaus Latta Uggs in the basement, where I considered eating (yet another) gluten-free mochi doughnut.
Ultimately, to me, this is why I would spend my Saturday at Nordstrom: It's a safe space to go a little low and a little high. And maybe get a little drunk. "You can drink anywhere in the store!" I was told multiple times, even before 5 p.m. (Although, this does not actually extend to the first and fourth floors, plus lower level two.) As I stuffed my face with an Instagram-friendly sugary treat, I realized that the Nordstrom family deserves credit for keeping the dream alive — for being perhaps the only place on Earth where Carrie Bradshaw, Lil Uzi Vert, and my mom could each find something to wear. It's all there for the taking — even those Manolos. It's up to you how you put it together.
This article has been updated.