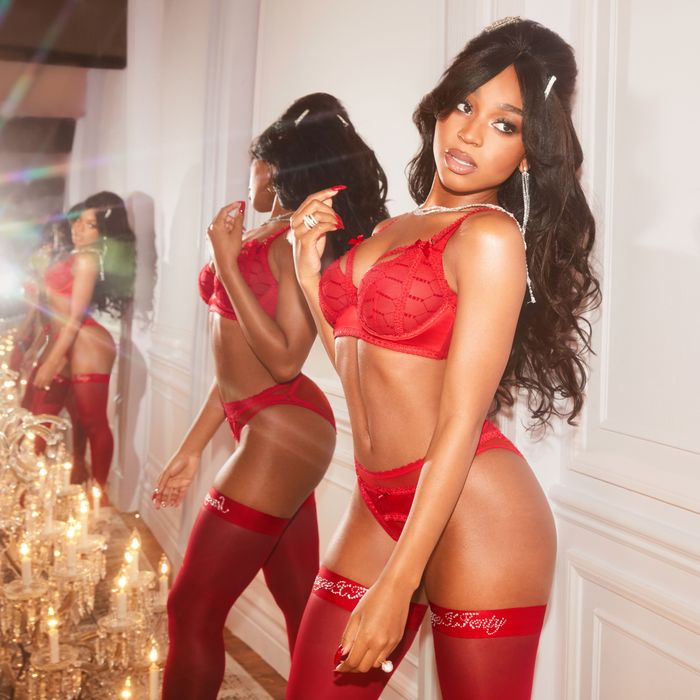 Normani wearing Savage x Fenty lingerie.
Photo: Fenty
If you needed any more motivation from Normani, take one look at her new holiday campaign for Rihanna's Savage X Fenty lingerie line.
On Thursday, it was announced that the rising solo artist, who recently performed in Savage X Fenty's extremely hot version of the now-canceled Victoria Secret show, will now serve as the brand's global ambassador.
"Normani is the perfect choice for a Savage X ambassador" Rihanna said in a release. "She exudes confidence and power. Everything she does is executed with passion and the belief she's going to kill it. That's why people gravitate towards her."
"I am beyond honored to join the Savage X family as their new global brand ambassador," Normani said in response. "‪Rihanna is always at the cutting edge and continues to push the boundaries in everything she does. The way she embraces her sexuality and exudes grace is such an inspiration to me and so many other women around the world. Rihanna and Savage X celebrate and empower women of all shapes, sizes, and colors everywhere — it's a beautiful thing and is truly revolutionary. I am so grateful for this opportunity and excited for what's to come with my new Savage X family."
If this new holiday campaign is any indication, we're sure to see the fruits of Normani's "global ambassadorship" approximately nine months from Christmas Eve.