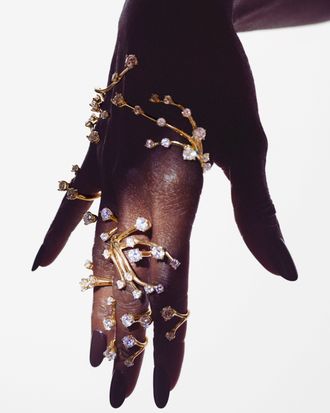 Photo: Lea Colombo/Courtesy of PANCONESI
What's better than having a ring with one gorgeous rock in the center? Covering your hand with gold and multiple sparkling stones. In an exclusive capsule with Net-a-Porter, the French jewelry brand Panconesi made a constellation-inspired collection. Each of the sculptural pieces include a web of crystals (like, say, a constellation), from the ear cuffs to the hand piece that wraps around the palm of your hand to the rings.
"I wanted to get close to that overwhelming feeling of wonder and awe when confronted by the stars: a sense of being connected to a larger world," designer Marco Panconesi told the Cut. "I tried to translate the emotion you get from looking at the Cosmos into sculptural objects that are spectacular but can also carry personal, introspective meanings for each person."
The rings are most clearly inspired by constellations, but one of the more interesting pieces is the upside-down, convertible hoop earring, which wraps around your ear like a gold Princess Leia bun instead of hanging down from the lobe. The collection is available now on Net-a-Porter, starting at $270. Shop some of our favorites below.
If you buy something through our links, New York may earn an affiliate commission.