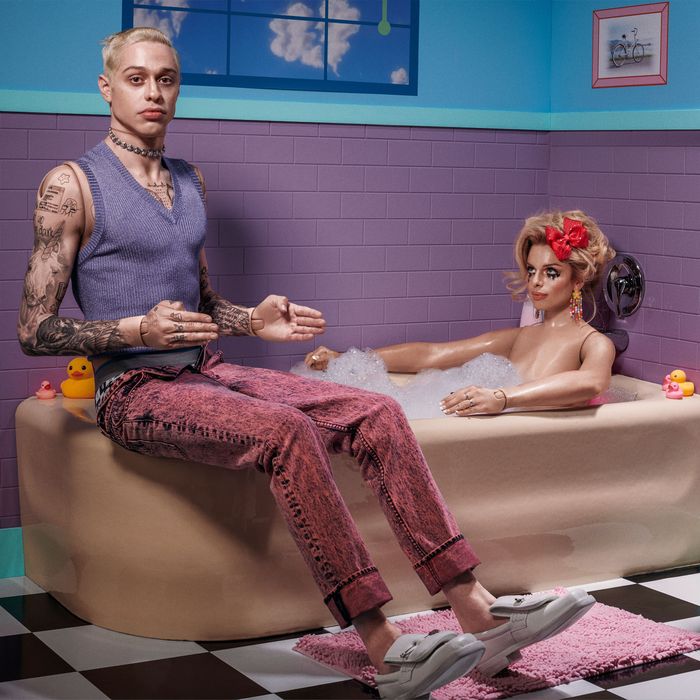 Photo: PAPER Magazine / Tommy Dorfman
Paper Magazine, trying to break the internet in perpetuity, also managed to break plastic Ken's spirit today with the release of its naked Pete Davidson-as-Ken doll cover. The shoot is bleak, featuring a dead-eyed Davidson hanging out in his poorly lit Barbie home with his Barbie wife (Julia Fox). Rubber ducks and giant pills serve as props.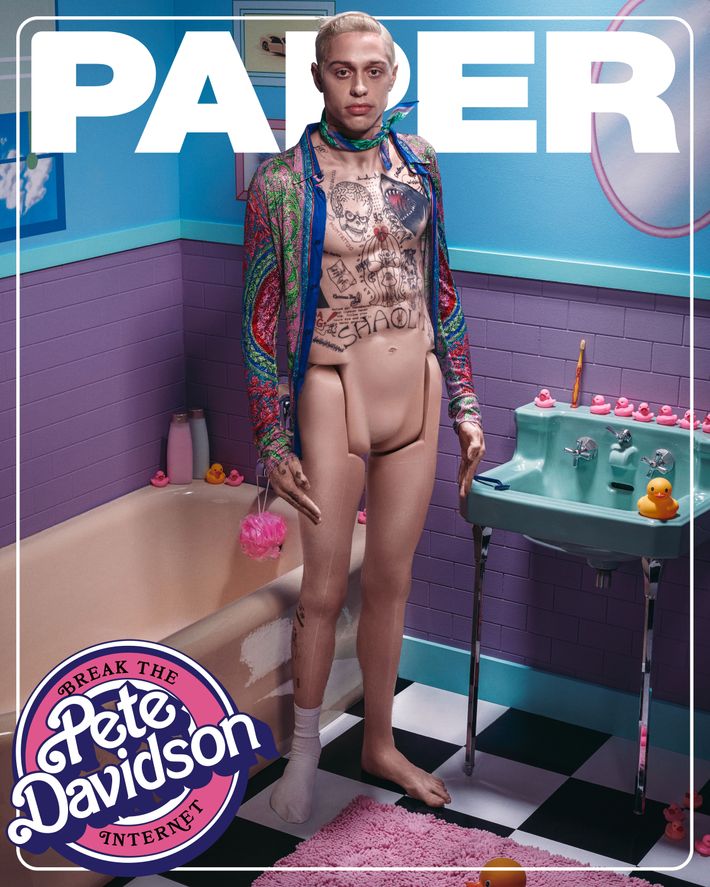 The concept, according to a press release, plays on "Pete's public mental health journey, his coverage in the tabloids and, of course, the infamous 'BDE' meme."
The shoot was apparently the brainchild of Tommy Dorfman, actor and best friend to Davidson's latest paramour Kaia Gerber, who shot the spread. As Dorfman explains in the release, "He'd [Davidson] told me he slept in a car bed as a kid," an anecdote that somehow inspired Dorfman. "I saw it immediately: this Staten Island Ken Doll version of Pete stuck in a Barbie nightmare, pills everywhere. 'You'd be like depressed Ken.' I said. 'Yeah! And d*ckless, like, with Ken-d*ck,' [Davidson] said, and the whole car exploded with laughter."
One the topic of BDE, Davidson doesn't divulge much to Dorfman, who also interviewed him for the magazine. "Yeah. I think it's very … weird. I don't really pay attention to it," says Davidson, explaining that it's either "'Ye-YESSS!' or 'FUCK NO!'" when it comes to how he's perceived by women. The rest of the interview is similarly nuanced.
While giving Pete a "Ken Doll-Crotch" was apparently Dorfman's idea, it was Davidson who wanted the shoot to be dark and depressing. Which, incidentally, is exactly what it is.