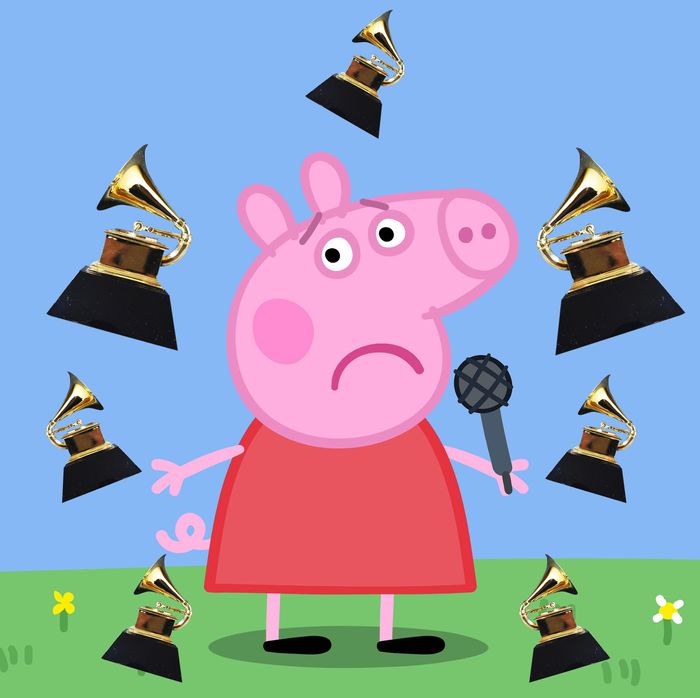 Peppa, Grammy snubee.
Photo: Entertainment One, Getty Images
On Wednesday morning, the Recording Academy announced their 2020 Grammy nominees. These included Lizzo, who was nominated in five categories, Lil Nas X, and Ariana Grande. But one bright, shining star of the music industry was notably absent from this years' nominees: Peppa Pig.
Peppa, the 4-year-old, 7-foot-tall British pig and star of the children's program Peppa Pig, released her first album, My First Album, back in July. It is, to put it mildly, a masterpiece.
There's "Expert Daddy Pig," a conceptual piece in which the listener bears witness as Peppa observes her own father's blustering incompetence — he boasts about his various areas of expertise, and then tries and fails to perform various simple tasks, such as hanging a picture, or making a pizza. It is a searing, insightful parody of toxic masculinity. There's "Bing Bong Zoo," a meditation on the nature of identity and modern industrial zoos. "Peppa Party Time" a song chronicling Peppa's puddle-jumping party, is a celebration of excess and female misbehavior.
On their own, these songs are catchy bops. Together, they paint picture of a modern woman trying to find her place in the world. And yet, somehow, the Academy overlooked her …
Perhaps they were trying to steer clear of controversy, by avoiding any association with Peppa's problematic past. Back in March, the porcine singer was publicly criticized by the London Fire Brigade for a 2009 episode in which the narrator says, "Mummy Pig's dressed as a fireman," and Peppa laughs off his gender-specific terminology, saying "Mummy!"
"Come on @peppapig, we've not been fireman for 30 years," the fire brigade tweeted. "You have a huge influence on kids & using out of date stereotypical gender specific wording prevents young girls from becoming firefighters. Join our #Firefightingsexism campaign."
It was a dark time for Peppa. But on My First Album, she shows that she's learned her lesson, singing in her anti-capitalist hit "Busy Miss Rabbit" about Miss Rabbit's various jobs, including as a "fire engine driver," — a gender-neutral job title.
But Peppa's astonishing growth, and her willingness to own her mistakes through art, wasn't enough for the Recording Academy, it seems. When the gilded gramophones are handed out in January, none will go to her. There will be no pictures of the young pig beaming in front of the press, struggling to hold all of her Grammys in her pink, stick arms. There will only be a girl, an artist, a pig, sitting and watching at home with her inept father, quietly muttering "Bing bong bing, bong bing boo, we're all going to the zoo," sadly under her breath as she watches the stars collect their awards.