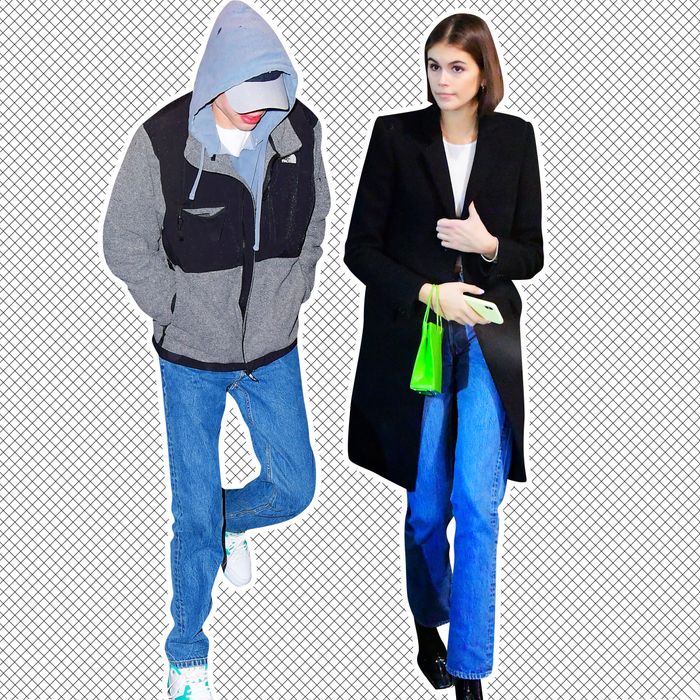 It's been a big year for big pants. Harry Styles's new album cover, for example, is mostly pants. Shiv Roy's big boss pants dominated us on Succession. Diane Keaton TOLD US ABOUT HER BIG PANTS in all caps. Pants also raised a lot of deep, philosophical questions. It comes as no surprise, then, that two people perfectly suited for pants found each other just in time for the new year: Pete Davidson and Kaia Gerber.
Yes, Pete Davidson seems to be dating another notable brunette — this time, she's Cindy Crawford's supermodel daughter, Kaia Gerber. At five-feet, nine-inches tall, and mostly legs, it is both Gerber's god-given talent and literal job to look good in pants. Brands like Chanel and Marc Jacobs pay her a lot of money to wear them. She is often photographed walking around New York wearing jeans better than anyone else on the sidewalk. Davidson, meanwhile, is not someone I'd immediately characterize as a pants guy, despite having a body that's equally well-suited to wearing them. (He's 6-foot-1.) For example, when he was dating Ariana Grande, who never wore pants, he notoriously embraced a more casual, sweats and slide sandals look.
Davidson seems to be stepping it up for Gerber, though. On Monday night, the new couple was photographed together at Webster Hall looking like two pairs of walking jeans. They appeared whole, like a matching set.
It's not unusual for couples to start dressing like one another as they get closer. But it is unusual for two star-crossed lovers to both look so good in denim. This fact alone gives me hope for Davidson and Gerber. May their Big Pants Energy light the way. (Sorry.)