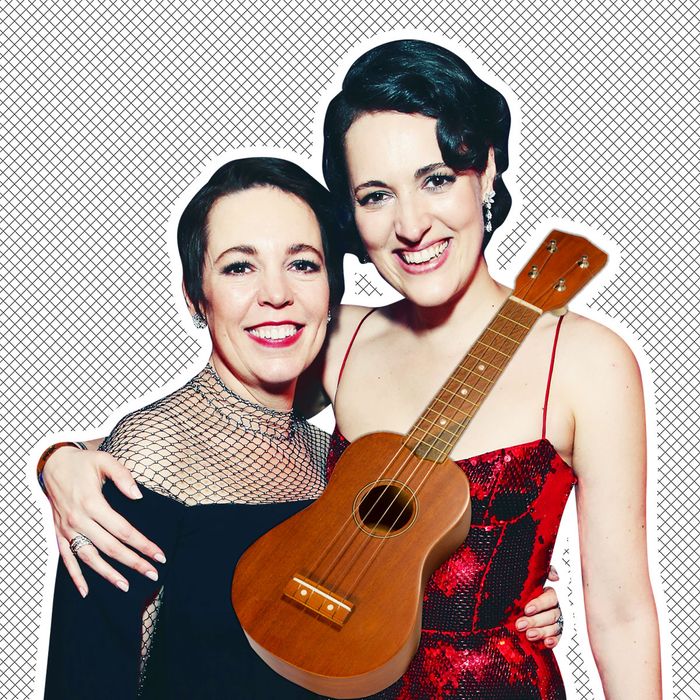 *Ukuleles strum softly in the distance*
Photo: Getty Images
Oh no, you woke up feeling very anxious, didn't you — pinned to your mattress by the kind of faceless dread that comes with having gone to sleep in spooky season, only to find yourself catapulted into The Holidays seven hours later. But it's not just that you somehow lost two months overnight; it's also that the 2020 election is exactly one year away, and California is on fire, and your cat is screaming into your face with an urgent look in his eyes that you just can't parse, and the energy in here is very nervous.
I can't promise any of that will turn out okay, but I can promise that watching Phoebe Waller-Bridge play ukulele for Olivia Colman will help. At least for a shining moment.
Colman, you see, was recently tasked with recording a song for charity and felt queasy about having a bunch of professionals watch her sing alone in a small booth. These were nerves on par with accepting her Academy Award.
"This is by a country mile the worst thing I've ever done, I mean, the scariest thing I've ever done," Colman, a woman who has fully mastered the Queen of England's ice stare, tells the BBC. "I'd rather give birth again with no drugs than do this," she adds, her eyes going as big as her whole face and her voice catching in her throat. As you'll see in the below video, the session gets off to a rocky start:
But then! The sound of ukuleles strumming somewhere in the distance — it's Phoebe Waller-Bridge and her composer sister, Isobel, galloping in with instruments blazing.
Waller-Bridge appears to hold a coveted spot among Colman's storied "bitches" and knows the power of her Fleabag co-star's voice because they do karaoke together (!). Colman is "one of those dark horses," she explains, her eyes shining with encouragement. The Waller-Bridge sisters get in there, settle down on their Beatles seats, and commence the jam. Instantly, Colman is soothed. She stands in front of the mic and belts out a hit, looking as calm, cool, and collected as I imagine you feel right now, having sucked this nerve tonic through your eyeballs.
So, next time you wake up under a crushing blanket of existential angst, you know what to do: ukuleles. Big, sweat-making meeting? Give your face three minutes to absorb these ukuleles first. Beginning your live blog of the third presidential debate? Here's you, a person who has just watched Phoebe Waller-Bridge smash the ukulele: