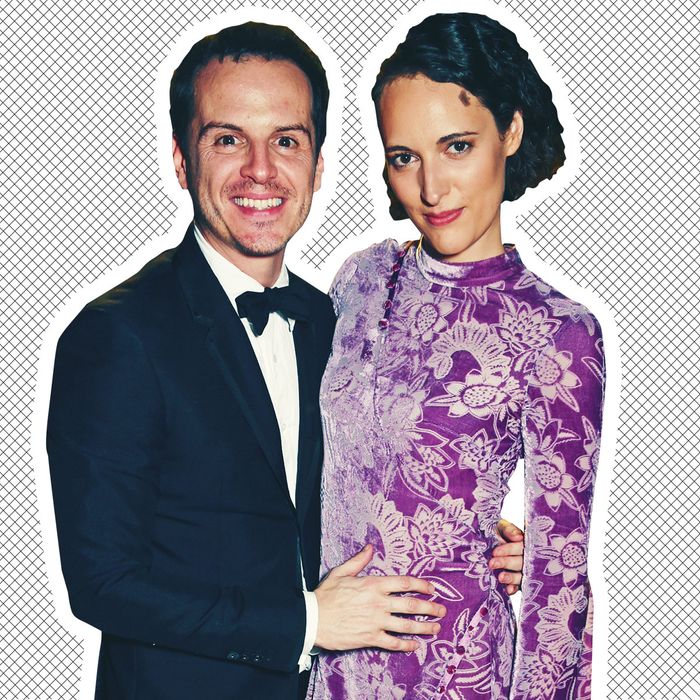 Photo: David M. Benett/Dave Benett/Getty Images
On Wednesday, Vogue revealed its December cover subject: British actor and writer Phoebe Waller-Bridge, star and mastermind of Fleabag.
True to form, the magazine profile begins with Waller-Bridge cracking jokes in the bathroom of a midtown pub. "We can pee together!" she tells writer Lauren Collins. Being the double-Emmy-winning comedic genius that she is, Waller-Bridge provides many more sparkling moments throughout. She says she prefers to just "Steve Jobs it" when it comes to getting dressed, for example, which obviously means she's a fan of turtlenecks. She produces Peanut Butter M&Ms from her bag. There are also mentions of her having a glass of wine with Hillary Clinton, and details regarding that glorious post-Emmys Instagram, which we now know involved a vodka gimlet.
The absolute best line in the profile, though, comes from none other than the Hot Priest, also known as actor Andrew Scott. "People describe Phoebe as really cool, but, I don't know, I feel that she's not cool," he tells Vogue. "Cool suggests detached and indifferent, and I think she's actually the opposite of that, a boundless enthusiast for life."
Wow. Let that sink in for a second. Phoebe Waller-Bridge is not cool. She is a boundless enthusiast for life. Have nicer words ever been said about anyone? Ever? This compliment is so perfect, so sexy in its thoughtful observance, that searches for the phrase "not cool" are sure to spike on Pornhub by 162 percent, I'm sure. (The same happened for the word "religious" after the Fleabag season-two premiere. Really.)
Let's look at the evidence at hand, though. How not cool is Phoebe Waller-Bridge? She certainly looks cool on the cover of Vogue. Wearing an intricate, one-shoulder Saint Laurent dress, she strikes a classic "fashion" pose, with both hands upside-down on her hips, elbows in a concave position, and shoulders hunched with attitude.
Her face arguably says something different, though. She's got minimal makeup and her expression is relaxed, with a slight smirk and an eyebrow raise. She seems to be making subtle fun of the whole "fashion" thing, while also enjoying it at the same time. How … cool.
I mean, what's not to love about a giant blue velvet Balenciaga turtleneck ball gown that makes her look like the girl who turns into a blueberry in Willy Wonka? Waller-Bridge takes it very seriously, and we thank her (and Vogue) for that.