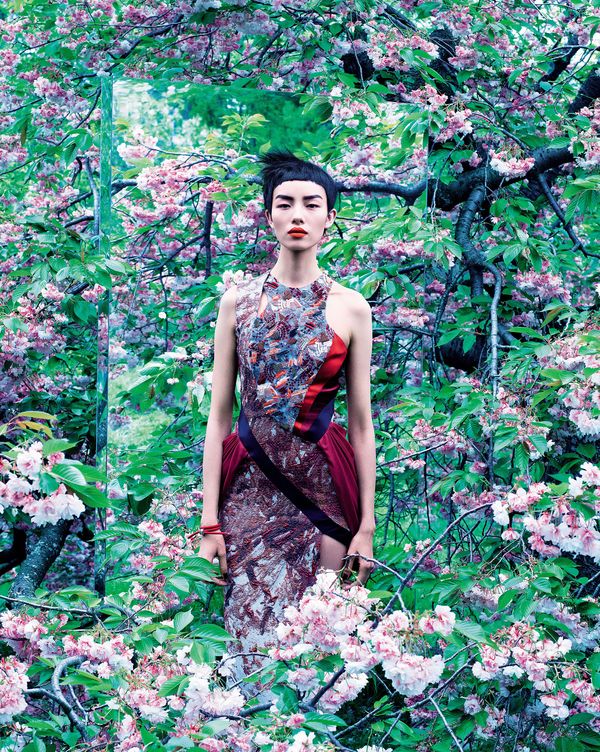 Photo: Mikael Jansson / Trunk Archive/Courtesy of Prabal Gurung
When preparing for a special occasion, after the hair is done and the makeup set, then comes the dress. "It's the last thing you put on only when ready, prepared," Sarah Jessica Parker explains in the foreword to Prabal Gurung's eponymous monograph. "It's the period at the end of the sentence." But in Gurung's case, a dress was only the beginning.
In the ten years since his brand debuted at New York Fashion Week, the Nepalese-born designer has dressed the some of the world's most powerful women, including Oprah, Michelle Obama, and Kate Middleton, all while engaging in activism and celebrating his familial roots. The designer's decade-long journey is documented in the monograph with sketches, written excerpts, and never-before-seen photographs. Below, take a look at the brand's evolution through selected images and quotes from Prabal Gurung, out now from Abrams Books.
2009: The Launch
"I had always dreamed of creating my own eponymous label. It was my 'impossible dream,' and 2009 felt like the time to take that leap of faith … I left my design-director job at Bill Blass, the storied American couturier with a beautiful and rich heritage, to go off on my own. I went on unemployment, turned my studio apartment into an atelier and showroom, and to this day, never looked back."
2010: Foray Into Runway
"My dream had always been to build a luxury brand with a soul in New York — the glamour, pace, and spirit of the city invigorated me, and the melting-pot culture always felt so welcoming, coming from a place of tradition and convention. Fashion Week at Bryant Park symbolized all I hoped for. It had been my goal since I was young to be a part of it."
2011: Finding His Strength
"It was a year that came undone, and when I learned to stand up on my own. I channeled this newfound energy creatively on the runway, drawing on tragic heroines and overtly sensual art to celebrate the liberated, fearless women who embrace their femininity with a sharp-witted edge, or what we like to call 'femininity with a bite.'"
2012: The Creative Awakening
"During this time, I wanted to experiment and step outside of my comfort zone to explore and celebrate our muse's sensual side, showcasing the complex layers of a woman. I was so consumed with fashion, bursting with ideas, and on an absolute high, humbled by our achievements and envisioning our future."
2013: Celebrating Female Heroines
"In 2013, I wanted to reveal the side of women unseen by the world. We took two very different approaches in our runway collections this year, yet both explored this theme … Through these collections, I wanted to continue to unravel the deep complexities of women and create a space to shift ownership of the female gaze back from the voyeur to the subject."
2014: The Homecoming
"While the soul of our brand has always been rooted in my heritage, my voice and dedication to the place that so defines me were at their highest at our halfway mark … I returned to Nepal prior to designing the Fall 2014 collection, and my trip reinvigorated my love, admiration, and appreciation for the Eastern world."
2015: Rediscovering His Identity
"It was the year that the devastating earthquake struck my homeland in Nepal … I was living in despair, confusion, and hopelessness. But I knew I had to get up and find a way ahead, despite feeling so far away from my home and the self-identity I once knew. I re-found my home in my fashion community — in their outpouring of support, their open arms, and their positive energy toward creating a collective effort to rebuild."
2016: Embracing His Voice
"While I've never been one to shy away from speaking openly about my ideals, 2016 was the year I learned to really embrace my voice, and when society leaned into our ideals as well, whether through championing for who I hoped would become our first female president, advocating for size inclusivity, or supporting women on their pursuit to be free from constraints of the male gaze."
2017: Social Activism
"2017 was a year of awakening. My mantra: Together we are vigilant, we are active, we are armed to fight, peacefully and courageously … Provoked by the vigilance of the Women's March, we staged a moment of solidarity at our Fall 2017 show, launching a diverse collection of T-shirts that spread our messages of feminism, equality, and inclusion."
2018: Fighting for Representation
"We presented optimistic color and unique patterns. This was our way of taking a stand for inclusivity, or allowing our clients, followers, and friends to use their clothes as a visual language to represent who they are. Together we found peace, compassion, understanding, and optimism. We celebrated the power of color. We let our spirit take the reins and led with our hearts."
Photo: Courtesy of Prabal Gurung
If you buy something through our links, New York may earn an affiliate commission.