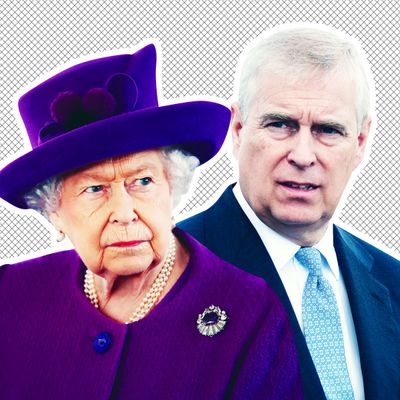 Queen Elizabeth and Prince Andrew.
Photo: Getty Images
An adult man's birthday party has been canceled by his mother because of the poor job he did talking about his terrible friend on TV.
Yes, according to The Sunday Times, following Prince Andrew's disastrous BBC interview this month about his close relationship with deceased sex offender Jeffrey Epstein, Queen Elizabeth has decided to cancel the party she was going to throw for her son's 60th birthday in February 2020. Instead, the queen will merely be throwing him "a small family dinner" — a serious punishment indeed.
News of this birthday-based penalty comes days after Andrew announced that he would be stepping down from his royal duties. "It has become clear to me over the last few days that the circumstances relating to my former association with Jeffrey Epstein has become a major disruption to my family's work," he wrote in a statement.
The prince was reportedly told to step down by his mother, according to the Daily Beast. It is unclear whether she delivered the double whammy about his birthday-party cancellation at the same time.
Despite the prince's claim that he only realized "over the last few days" how disruptive his relationship with Epstein was, Andrew's relationship with the accused sex trafficker has been the subject of intense media scrutiny for months, and back in 2015, Virginia Giuffre, one of Epstein's accusers, claimed in a lawsuit that she had been forced to have sex with the prince on three separate occasions. (The prince has repeatedly denied these allegations.)
The prince addressed Giuffre's accusations in his BBC interview, claiming he had no memory of ever meeting her, although a widely shared photo from 2001 of him with his hand around the then-17-year-old Giuffre's waist is now infamous.
The palace has vehemently denied all of the claims leveled against Andrew. While the FBI continues to press for a formal interview with the prince, his forced recusal and pared-down birthday party are the most serious actions that have been taken against him so far in the U.K.