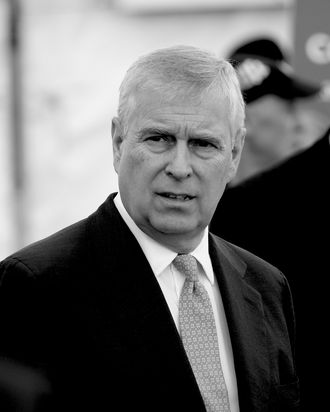 Photo: Ian Forsyth/Getty Images
Prince Andrew recently appeared on BBC Newsnight in a disastrous attempt to clear his name involving his ties to Jeffrey Epstein.
The royal addressed his relationship with the deceased sex offender, saying, among other shocking things, that he didn't regret their friendship because it was "useful," due to the people whom he met and opportunities that arose because of Epstein. "I wanted to know more about what was going on in the international business world, and so that was another reason for going there," he said. What Prince Andrew does regret is his visit to Epstein's Manhattan home in December of 2010, the purpose of which, he claims, was to end his friendship with Epstein — though the trip lasted four days and included a celebrity-attended dinner. Here's what else he said in the interview.
Staying at Epstein's home was "convenient."
When BBC reporter Emily Maitlis asked Prince Andrew why he chose to stay at the home of a convicted sex offender in 2010, his response was that it was convenient for him to do so, and that it was the "honorable and right thing to do." In fact, he said, the misstep was due to him being too honorable for his own good! "I admit fully that my judgment was probably colored by my tendency to be too honorable, but that's just the way it is," he said. Prince Andrew also said that breaking off their friendship over the phone would have been the "chicken's way of doing it" and that he had to talk to him in person:
I went to see him and I was doing a number of other things in New York at the time and we had an opportunity to go for a walk in the park and that was the conversation coincidentally that was photographed which was when I said to him, I said, "Look, because of what has happened, I don't think it is appropriate that we should remain in contact," and by mutual agreement during that walk in the park we decided that we would part company and I left, I think it was the next day and to this day I never had any contact with him from that day forward.
One of his alibis is a medical condition that prevents him from sweating.
Maitlis also brought up Virginia Roberts Giuffre, who alleged that Epstein forced her to have sex with Prince Andrew three times when she was 17. Giuffre claimed that one of these occasions involved dining and dancing with the prince at Tramp Nightclub in London, which Prince Andrew denied, saying he had no recollection of meeting her. "She was very specific about that night, she described dancing with you, and you profusely sweating and that she went on to have bath possibly," Maitlis said. Prince Andrew's response? That it was impossible because he had a medical condition that prevented him from sweating:
There's a slight problem with the sweating because I have a peculiar medical condition which is that I don't sweat or I didn't sweat at the time and that was … was it … yes, I didn't sweat at the time because I had suffered what I would describe as an overdose of adrenalin in the Falklands War when I was shot at and I simply … it was almost impossible for me to sweat. And it's only because I have done a number of things in the recent past that I am starting to be able to do that again. So I'm afraid to say that there's a medical condition that says that I didn't do it so therefore …
Prince Andrew also claimed that he couldn't have been with Giuffre that night because he took his daughter, Beatrice, to a Pizza Express for a birthday party.
He's just too polite.
The prince also described Epstein as "unbecoming," an extremely mild word choice for a child rapist and sex trafficker, which Maitlis pointed out. In response, Prince Andrew said:
I'm sorry, I'm being polite, I mean in the sense that he was a sex offender. But no, was I right in having him as a friend? At the time, bearing in mind this was some years before he was accused of being a sex offender. I don't there was anything wrong then, the problem was the fact that once he had been convicted I stayed with him and that's… that's … that's the bit that … that … that, as it were, I kick myself for on a daily basis because it was not something that was becoming of a member of the Royal Family and we try and uphold the highest standards and practices and I let the side down, simple as that.
In September, the FBI said it would be expanding its investigation and interviewing more Epstein victims who might have more information on the prince's involvement. "The U.S. investigation is focusing on several potential victims in the hope that they can provide more details about Prince Andrew and his connection to the Epstein case," sources at the U.S. Justice Department told the Times. "They are not going to dismiss [claims relating to Andrew] because he is a royal." When asked about whether he would be willing to testify, Prince Andrew told Maitlis, "If push came to shove and the legal advice was to do so, then I would be duty-bound to do so."
Prince Andrew's publicist apparently quit after advising him not to do the interview.
This post has been updated.