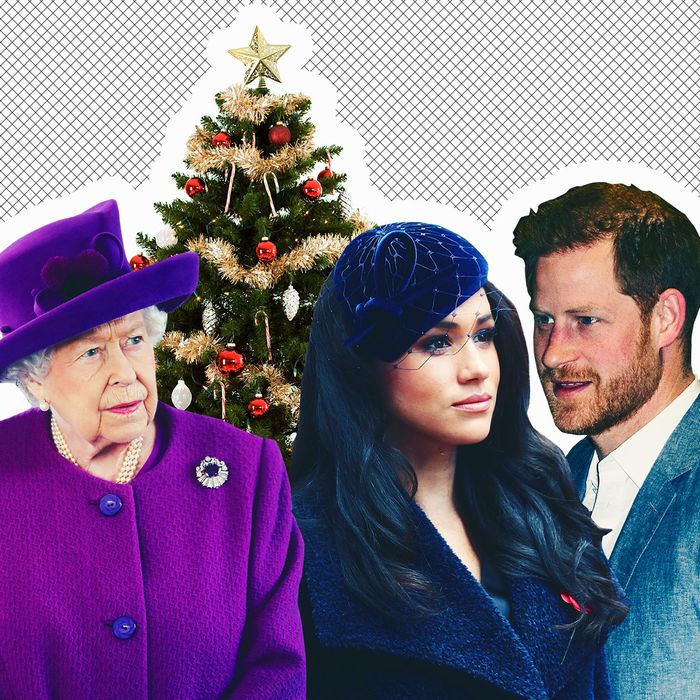 "Christmas time is here. Happiness and cheer. Fun for all that children call … their favorite time of year." Yes, yes. Not so, however — for the queen!
As you might remember, Prince Harry and Duchess Meghan decided that they, along with baby Archie, would spend the holidays in Los Angeles with Meghan's mom, Doria Ragland. (This is after spending the past two Christmases at Sandringham, which, as I'm sure you know, is "the much-loved country retreat of Her Majesty the Queen.") While Buckingham Palace's official statement on the issue says the couple has "the support of Her Majesty the Queen," an Us Magazine source says otherwise.
Indeed, according to this source, Queen Elizabeth II is "disappointed" about Harry and Meghan's plans. Oh no! Sadly, the source did not elaborate on the queen's emotional state, so we are left with only one word: disappointed. Oh, sweet queen. Oh, Her Majesty. I promise you — it's going to be okay.
While you (the queen) won't have Harry and Meghan this Christmas, you still have many other Christmas delights to look forward to. Allow us to enumerate some for you, in order to bring you good holiday cheer:
1. Santa
While it's true that Santa will make a stop in Los Angeles to visit Meghan, Harry, Archie, and Meghan's mom, I don't think he's going to spend all of his time there. He will likely also visit Sandringham (if everyone at Sandringham has been good this year). You can still look forward to him.
2. Probably You'll Wear a Fancy Christmas Hat
Right? I bet this is true.
3. Snowed In by Hanson
One of the greatest Christmas albums of all time.
So. Cheer up!