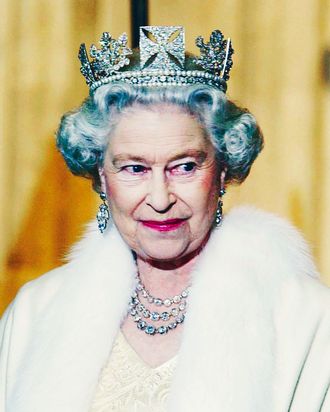 Queen Elizabeth.
Photo: Pool/Tim Graham Picture Library/Tim Graham Photo Library via Getty Images
The queen is the latest person to follow one of fashion's hottest trends: saying no to fur.
Well, at least new fur — she's not quite ready to part ways with all of her vintage, mink- and rabbit-lined clothing. As her longtime dresser Angela Kelly writes in The Other Side of the Coin: The Queen, the Dresser and the Wardrobe, Queen Elizabeth will only be procuring faux fur from here on out. "If Her Majesty is due to attend an engagement in particularly cold weather, from 2019 onwards, fake fur will be used to make sure she stays warm," Kelly writes, a detail which Buckingham Palace has confirmed. The Palace notes that the queen may still appear in fur in the future, but she'll only wear fur items
that she had in her possession before adopting her new cruelty-free lifestyle.
Good for the queen. In recent years, major fashion houses — Versace, Michael Kors, Gucci, and Prada — have pledged to stop using fur. And just last month, California became the first U.S. state to ban the sale of fur. Are we moving toward a fur-free future? According to CBS News, both Hawaii and New York have also introduced fur-ban legislation.
It's worth noting that while faux fur is certainly less cruel, it's not the most sustainable. The synthetic fibers that make up faux fur aren't biodegradable, and growing research into microplastics — what your synthetic clothing leave behind in the washing machine — doesn't look so great.
But, hell, this is an admirable move from the 93-year-old matriarch. Does this mean Meghan Markle — an outspoken animal-welfare advocate — got to her?