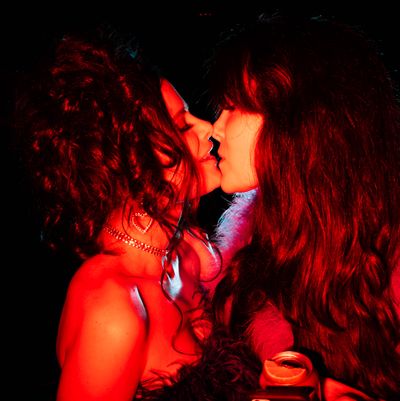 Rachel Rabbit White (left).
Photo: Brian Finke
It's her first-ever book party, and Rachel Rabbit White — the poet, writer, sex-work legend, activist, and ex–Times Square stripper — is all dolled up. I've never seen her otherwise, online or off. Tonight her brunette hair is blown out, curled, and piled on top of her head, held up by two rhinestone clips that spell out "ANGEL DUST." Five-foot-two, the same height as Kim Kardashian and Debbie Harry in flat feet, she prefers to go out in six-inch Lucite platform "Pleasers," the most popular exotic-dancer heel in the world. For the event, they're coated with cobalt-blue glitter to match her monochromatic outfit: a marabou-feather strapless bustier and skintight, high-waisted disco pants with a gleam that catches the light. The title of her first full-length book of poems doubles as the party's dress code: Porn Carnival.
"I've overdone it a little with fillers and Botox this past year. Lately I'm trying to look more like a regular Bratz doll," she explains matter-of-factly. "Or as someone called me online, 'a haunted Megan Fox Bratz doll.'" Before the party, she'd posted an Instagram Story saying she bought angel dust and wine for the event's after-party, instead of spending the money on fillers, "bc I care about COMMUNITY."
This tracks. Drugging up the literary community has always been a key tenet of Rabbit White's social practice. When I was still in college with a pinkie toe in the publishing world — I was writing overnight TV recaps of Girls for this magazine — we met at the birthday party of enfant terrible Marie Calloway. Rabbit White walked up, giggled, and offered me molly. I knew her as a columnist at Playboy; she hadn't yet crossed over into sex work or had a partial rhinoplasty, augmented and rearranged her boobs to allow for "a lower nipple line for maximum cleavage," or plumped up her lips — surgeries and procedures I would later watch her document on Instagram with a deadpan joie de vivre. (Twenty-one weeks ago, she posted a shot of herself basking in the L.A. sun sporting black spandex bike shorts — and using a walker post–butt augmentation.)
It was clear to me even then that her corner of the literary universe would always be sexier, funnier, and cooler than the stuff you'd find at n+1 parties and other Harvard-adjacent spaces. Her book party tonight is an extreme example — it's hard to imagine another literary event approaching this level of louche decadence (though, to her credit, Rabbit White did show up to last year's n+1 gala in a strapless glittery magenta-pink minidress, ragged Miu Miu fur coat falling off her shoulders, vampire-teeth rose-gold grill flashing when she talked).
Puffing on a Juul to stave off pre-event jitters, Rabbit White purrs, "I became a poet because I was experiencing ego death from sugaring too much." (Sugaring is the verb form of "sugar baby.") She surveys guests from the top floor of the cheekily lurid Bushwick club Venus in Furs, which she "chose because of the zebra- and cheetah-print walls, and because Venus in Furs, like the novel, is where the term masochism comes from." Over the dance floor hangs the largest disco ball I've ever seen, bouncing off pink Formica tables and deep-purple walls. She hasn't yet ditched her fox-fur coat.
"There's going to be a lot of hooker legends here tonight," she muses, peeking over the balcony at the growing scene while she waits to glide down the central staircase Sunset Boulevard-style and join her party. The writer Ripley Soprano, wearing a baggy soft-blue suit, coaxes her away with a gift of 50 whippet pods and a canister, which she happily ferries downstairs. (Soprano's Twitter bio is "nitrate-anarchist.") After all my questions about whether whippets are legal, they reply, "Clearly you need to do some gonzo journalism."
Soprano won't tell me how they met Rachel — a common refrain — but offers to talk about the book club. I mention that the acknowledgments of Rachel's poetry book refer to the book club as a sex cult. "Yeah! The sex cult." And you've had sex at it? "Yes, sure, on occasion." What was the last book you read? "Ursula Le Guin I think. Darkness…" Someone standing nearby chimes in, "Left Hand of Darkness. It's a sexy book." Ripley furrows their brow, "I don't think anyone really liked it! I never come for the book." (Later, when I ask Rabbit White about the literary commitment of the book club, she throws up her hands, "I didn't mean to throw an orgy, I truly just wanted to read more…but everyone wanted to do the orgy.")
The scene below fills out. I clock an innumerable number of pasties and pleasers. A blue wig is pinned into place with rhinestone clips that say "CARRY NARCAN" on one side "KILL COPS" on the other; a 'fro is decorated with cigars, pearls, and roses. A girl hands back a bottle of poppers and says, "I wish we were doing ketamine." A girl in a pale-pink cowboy hat bedazzled with rhinestones is wearing neon-pink pleasers fastened with light-pink kinky anklets. A woman dressed as a "slutty milkmaid" says she doesn't know Rabbit White personally but she's in a union with one of the other readers. Her friend pipes up, "We're going to overthrow capitalism. Although the form to sign up is kind of complicated." Someone else nods, "I'm a dumb Marxist bitch."
I sidle up to author Tony Tulathimutte downstairs, dressed normally. "This is the conjunction of eight different micro-niche literary-world types, right?" he says, as a means of hello. "I just saw the Chapo guys over there." I had in fact just come from attempting to talk to Chapo Trap House host Will Menaker, but he'd answered five different questions the same way: "I need to ask my girlfriend." Soon enough, the girlfriend, Katherine Krueger, joins us, having heard from Will that her insights were needed. (She and Rabbit White have a podcast of their own in vitro. Working titles: Disassocialism or Eyes Wide Sluts. "Our group chat is called 'untitled socialite project,'" says Krueger. "We want to have Cat Marnell's ex-PCP dealer on.")
The packed room quiets for poetry readings, roasts, and performance art. Rabbit White, introduced as "the original 21st-century hooker laureate," takes the stage as she would at a strip club — grinding against the wall, dropping to her knees, and twerking. ("'The poet is a sort of Prostitute,' / wrote Nietzsche," writes Rabbit White in her new collection.) The transcendent moment, in my opinion, is her reading, lilted out in her husky voice, of three lines from a poem that reduced the audience to screams: "I would rather die than work / I would rather die than work / I would rather die than work." The climax occurs shortly thereafter: a "cake sitting" by performance artist Lindsay Dye, who twerks rhythmically on a "vajazzled cake" she baked with her own hands, singing along to Kate Bush's "Wuthering Heights." The audience goes wild, singing and throwing dollar bills, which mix in with the frosting as she rubs cake all over her haunches.
The bar morphs into a dance party, and I head to the afters, only to get briefly trapped in the elevator of the Yuppie Tower on the Williamsburg shoreline where Rachel has lived for four years. "Oh, it still smells like it smells," says whoever was stuck in the elevator with me. What it smells like is sex, I think, and on cue I hear, "Oh, I think Rachel's in the other room fucking."
A "Blue of Noon" cursive neon sign hangs on the central wall. "It's a Georges Bataille book about a prostitute named Dirty, and she's a star," says Rabbit White, smiling. Another guest chimes in, self-seriously, "It's set during the Spanish Civil War." On a coffee table is an uncashed check from the Poetry Project; on the kitchen counter, the book Hard Core: Power, Pleasure, and the "Frenzy of the Visible," by Linda Williams, is splayed out. The fridge is filled with wine, and dozens of whippet canisters line the radiator, next to crystals and assorted dildos. ("I have a few double-ended dildos," Rabbit White explains later. "Clients love them because they love to reenact Requiem for a Dream. That's a huge request," she trails off. "I've only seen purple double-ended dildos.")
Central to her living room is her dusty-pink "pillow pit," which is populated with clusters of people I recognize from the party. (Maybe 50, neighbors be damned.) The pit is filled with Hansa-brand stuffed animals. "They specialize in lifelike animals. We have a chicken, turtle, swan, octopus," Rabbit White explains. She's throwing them around. "We started twerking on them … I think for the three-day lesbian Thanksgiving I threw." A friend chimes in, "That chicken started a five-person orgy."
I spend the entire party, practically transfixed, in front of the freestanding stripper pole and magenta crash pads — an extension of the pillow pit. A mime I recognize from the party is now wearing a tutu around her neck (it had migrated from her hips since the reading). Soon she dons a bikini and gets on the pole. In between turns, she introduces herself as Oyster. (There's a poem named after her in the book. "It's about this human-centipede four-way that we had.")
Plates of cocaine and ketamine are being handed around. Someone starts cutting drugs with their Cigna health-insurance card. "We coined coquetamine," says Rabbit White. "But the popular term, for an article, is probably 'CK One,' like the perfume." Everyone was waiting for the angel dust to arrive.
I leave as the party disintegrates into a drug puddle, rejuvenated by what I'd witnessed. The overwhelming feeling of the event? Perhaps we make fun of safe spaces because we don't know how nice they are. And it was comforting to hear the words money and poetry being used in the same sentence. Maybe there's a future for the genre after all.