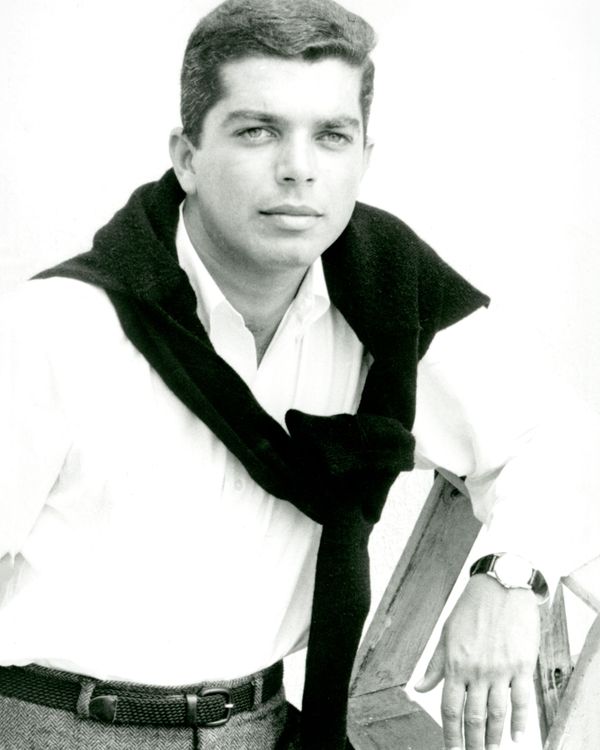 A young Ralph Lauren.
Photo: Courtesy of Ralph Lauren
Ralph Lauren is "zee American designer," says Karl Lagerfeld in Very Ralph, a new HBO documentary on the Bronx-born fashion icon. Coming from zee most prolific French designer of the 20th and 21st centuries, that's saying a lot. But the film, which premiers today, supports that statement, illustrating with interviews and archival footage how he's successfully sold an American fantasy to a global audience for over 50 years.
And also, just how much of a stud he was.
Born Ralph Lifshitz to Jewish immigrants from Belarus, Lauren, who is now 80, always had a keen awareness of his appearance and a natural affinity for putting himself together. "I always felt a little special about who I was," he says with a smirk. Girls wanted to dance with him, and guys wanted to dress like him. In 1964, three years before Lauren started his own business, the trade paper Daily News Record featured him as a "dashing man about town," highlighting the fact that he got all of his clothes custom-tailored. And boy, was he dashing, with thick eyebrows; a confident, cheeky stare; and a seemingly permanent tan. "His taste seems to be a season's jump ahead of the market," the article reads, next to a picture of Lauren with his shirt unbuttoned, pants riding high on his waist. "I just knew what I wanted," Lauren adds.
Fellow designer Calvin Klein remembers growing up with Lauren in the Bronx, "because he dressed in a way that was so different from everyone else." He would wear Army fatigues with a tweed blazer, for example, or thick wool shorts with high socks. "I thought, How cool that he has the courage to walk around like that," Klein says in the film. "He had a very personal look."
Lauren had zero design training, but his singular point of view got him far. In his mid-20s, while working as a salesman for the tie manufacturer Beau Brummell, he found himself wanting a tie wider than what anyone was selling. So, as he did with everything else in his wardrobe, he had one made to his exact specifications. People started talking, and eventually he convinced Beau Brummell to let him start his own tie line, which he named Polo. And that's how it all began — with personal style and a good idea.
In the early days of Lauren's fashion career, he and his young wife, Ricky, were just scraping together a life. They lived in a small apartment with a mattress on the floor and the elevated train overhead. As with his wardrobe, Lauren turned his home into his own little palace. Lauren's father, who was a painter, gave the living room walls a faux bois, or "fake wood," look. He and Ricky went down to Greenwich Village and bought patchwork furs for a rug. "We stayed up all night long gilding the apartment," Ricky says with a laugh in the film. "We didn't have much, but we were happy with what we had."
Lauren's practical sense of style combined with his capacity for fantasy — his love of Hollywood and Gatsbyesque glamour — would later define the look and spirit of his brand. It was aspirational but also attainable. He had the "eye of an outsider," says one talking head in the film. Even as a kid, Lauren dreamed of moving out of his small childhood room, which he shared with his two older brothers, so he could have a bigger closet. In his first apartment with Ricky, they had a bulletin board with "dream pictures," like that of a Morgan sports car or a countryside estate.
Lauren lived his life as a character in his own movie, and his clothes allowed his customers to do the same. Some days he was Rick from Casablanca, dressed in a double-breasted white dinner jacket, and other days he was a cowboy, wearing jeans and cowboy boots with a blazer. "I don't have a stable, but I'll go get the [horse] bit and the riding boots and I'll look really snappy and jaunty," says Vogue editor André Leon Talley of buying into the Ralph Lauren image as a young black man from the South.
Watching the film, my immediate reaction was that I wanted to play dress-up, too. I wanted to tie my sweater around my neck and pretend that I was on the lawn at Harvard or in a scene from Love Story with Ali MacGraw. I wanted to wear sweatpants underneath a blazer like Princess Diana. (Lauren does the same in the film, swapping his cowboy boots for Solomon sneakers.) And I was absolutely convinced that it would be fine, if not revelatory, to wear jeans and a tuxedo jacket to my next formal event.
I also think I came away with a crush on the man, specifically the way he gets dressed. Who wouldn't? "He looks good as a cowboy," says Karl Lagerfeld matter-of-factly. "I like, for him. I would be ridiculous. He is not."