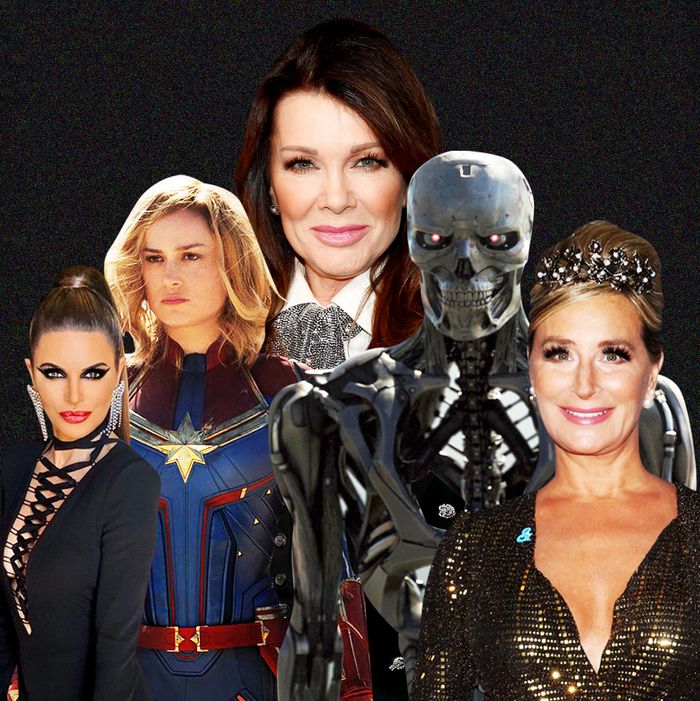 Photo: Getty Images, Disney/Marvel Studios, Paramount Pictures, @lisarinna/Twitter
Recently, Real Housewives Tamra Judge and Shannon Beador "starred" alongside Linda Hamilton in a mutated trailer for Terminator: Dark Fate. It amounts to 45 glorious seconds of chaos, and opens with Judge and Beador getting the call while sipping the Housewife diet of white wine. Next thing you know, in heels, shades, and bulletproof vests, the pair flank Sarah Connor as she takes out killer bots. While Connor does the heavy-lifting, they offer their quippy commentary. "You are such a badass," Beador says in Connor's general direction. Connor, of course, does not respond. Neither does the potentially dead Terminator, after Beador remarks that he's hot. After all, Judge and Beador are only "here" by way of a green screen.
It goes without saying that unfortunately Judge and Beador aren't in Terminator: Dark Fate. They are just there, in the two-minute long agglomeration of reality television and sci-fi action thriller, to sell a product — something that they are very well versed in doing. This bizarre alliance between Bravolebrities and blockbuster films began in 2015, when the network realized it could use its very profitable, very popular Real Housewives to market movies.
It all began with 50 Shades of Grey, in a spot that aired on Bravo featuring Kyle Richards and Lisa Vanderpump of the Real Housewives of Beverly Hills and Jax Taylor of Vanderpump Rules. This was far less technologically and conceptually sophisticated than the short films that air today; it just had Kyle and Lisa discuss the movie on a couch while making tame references to BDSM (at one point they hand Jax a leash — but only to walk Lisa's besuited pomeranian, Giggy.) Soon after that, NBCUniversal put even more behind these movie promos, using green-screen technology to overlay Housewives in actual movie trailers. Suddenly, a trailer for Thor: Ragnarok had cast members of Real Housewives of New Jersey observing Thor and the Incredible Hulk viciously facing off in an extraterrestrial gladiatorial ring. ("Oh, I get it — they're having a reunion," Dolores Catania deadpans, a nod to the notoriously hostile Housewives reunion episodes.)
And thus a highly specific — and surreal — mashup of Housewives and cinema was born. "The Housewives provide us with a unique versatility in terms of creating humor and promoting the film," Jamie Cutburth, the senior vice-president of marketing for creative partnerships at NBCUniversal, tells the Cut. "This is a group of celebrities that doesn't mind poking fun at themselves."
Some of these promos have become crossover events for fans — the Bravo equivalent of Avengers: Infinity War. An Alice in Wonderland trailer similarly throws Housewives from New York, Atlanta, Jersey, and Beverly Hills into a madcap tea party in a CGI Wonderland. And ahead of Ava DuVernay's A Wrinkle in Time, Housewives across franchises starred in a promo alongside Bravo Daddy himself, Andy Cohen. It was a RHONJ/RHOBH/RHOA/RHOP affair, featuring Melissa Gorga, Gizelle Bryant, Erika Jayne, Kenya Moore, and Cynthia Bailey. In it, the crew is transported to a dystopian other-dimensional suburb from the film, suddenly clad in matching '50s housewives garb. Moore wonders what an apron is (get it? She's absurdly rich), Bryant talks about herself in the third person, and Jayne complains that her high neckline is suffocating "her girls." It eventually devolves into them all arguing over which city is best. Costuming and setting aside, it has next to nothing to do with A Wrinkle in Time.
Parsing out deeper meaning and logic for these promos is, of course, futile, since they really are just marketing ploys. And yet, do I want to live in a world where every single movie trailer — which are, in and of themselves, a marriage between art and marketing — gets Frankensteined into a deranged Real Housewives remix? Absolutely.