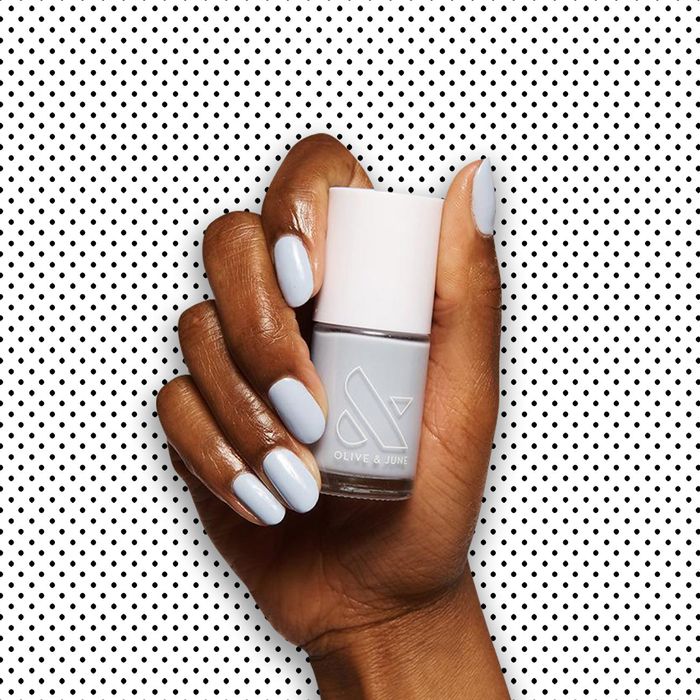 Photo: Courtesy of the Retailer
For the past year, my nails have been very boring — unshiny, unvarnished, and unremarkable. I'd given up on nail polish because the sight of a chip always struck me, when I was in an "in my feelings" mood, as a reminder that nothing lasts forever. To save me from becoming more of an Eeyore, I decided that I would just stop getting manicures.
But I still do have to do my job, so I continued testing nail polish in little swatches all over my fingers. My obsession with Olive & June polish was gradual. It started with one nail. Then two nails. Then I did a full hand, and finally both hands — which lasted for over a week, because the polish didn't seem to want to leave. My nails were shiny, bright, and chip-free for over seven days. The manicure lasted so long that I found myself wishing the polish would let go of its Tracy Flick–like determination and quit already.
On Instagram, the durability of Olive & June's polish has become so renowned that the brand's founder, Sarah Gibson Tuttle, held a "Mani Marathon" contest. One client reported her polish lasted for 21 days. The secret, Tuttle tells me, is that the polish, which is nontoxic, is manufactured in Korea and has a higher concentration of resin, making it more durable. (You'll notice that the formula comes out a bit thick and chalky at first, but don't worry, it evens out with two coats).
The colors are also great, starting with basics like the peach-pink EC (named after Eva Chen), bright red JG, and balanced beige MM (for Mandy Moore). Tuttle promises more fun colors to come, too.
If you buy something through our links, New York may earn an affiliate commission.