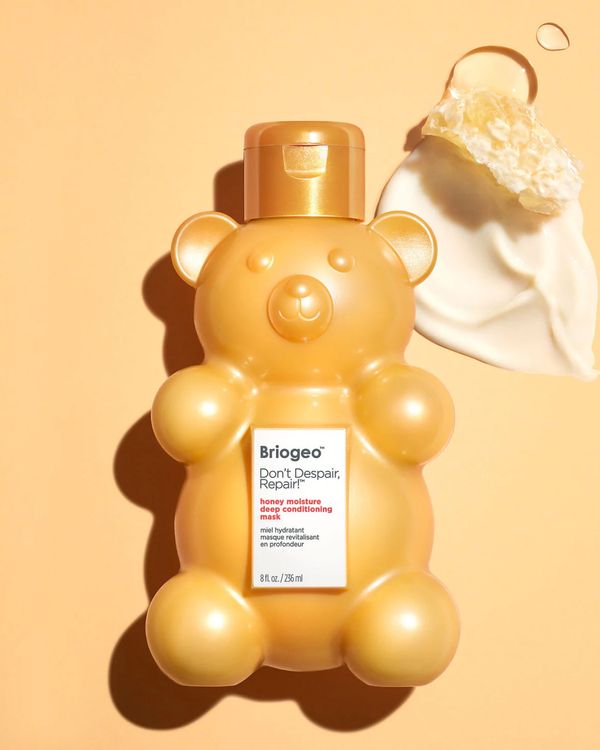 Photo: Courtesy of the Retailer
The secret to soft hair is at Sephora, if you believe the reviews. It's a hair mask from Briogeo, a new clean hair-care brand founded by a former Goldman Sachs executive. The Don't Despair, Repair mask currently has over 2,000 reviews that grant it the full five stars. And because cold weather is coming for your brittle ends, the brand has introduced a new version that's infused with honey, which acts as a humectant. Here's what five women with dry hair thought of the new Don't Despair, Repair! Honey Moisture Deep Conditioning Mask, and the kawaii honey bear bottle.
Kerensa Cadenas, Senior Editor
When Kathleen first handed me a random bear, I immediately thought of the bear-shaped honey jars from when my mom made me toast as a kid. But it turns out that as an adult, you can find hair relief in the same type of container. My hair has been a mess of late (I probably just need a cut) so I was excited to try it.
The shape of the bear container kinda made it difficult to get the mask out. But once I overcame that hurdle, I immediately loved the smell and enjoyed lounging about watching TV before washing it out. I always air-dry, and I forgot to condition afterward, so I was a little nervous about what my hair would look like in the morning. Turns out it wasn't bad! My hair felt really soft, and to my delight it looked more like a unified bunch of hybrid wave-curls than usual. I'd totally use it again.
Sarah Spellings, Fashion Writer
In general, my hair is … okay. I know I have a lot of fine hair and that it's probably damaged from heat and highlights, but that's where my knowledge ends. Anyway. I like this because of the bear packaging. I'm easily wooed by cuteness. But I was expecting to be ambivalent on this product. I used it, left it in for ten minutes, and washed it out. It didn't weigh my hair down like I was anticipating, and smelled nicely of honey.
I usually use an argan oil on my hair after I shower, but didn't this time because I thought it would be too much conditioning. I was right! Afterward, my hair felt soft, but not softer than it usually does. Overall, this was like a sheet mask: It feels good to use, but I'm not blown away by the results.
Callie Beusman, News Editor
My first impression of the Briogeo mask was that the packaging was extremely cute — a kind-faced little honey bear. My second was that it smelled overpoweringly sweet; I feel like the sweetness wafted through the bear, even, and I was anxious that it would be overpowering once I applied it. I imagined that bees would chase me around and felt stressed.
My hair is really long and thick, and I don't get it cut nearly enough. I dye it regularly, too, so the ends are these tragic little desiccated husks. Additionally, I usually wear it wavy, so I don't brush it unless it's wet, which means that between washes it can get incredibly unruly. Before I applied the mask, my hair was in a desperately tangled situation, and I felt like I should just let nature reclaim it. I have to say that the mask really helped! It untangled my hair really well, and it felt really soft and smooth afterwards. I felt very refreshed. Also, the smell was really pleasant, and not at all too strong. I will definitely use it again. I feel that this amicable bear has bought my ends another few weeks.
Daise Bedolla, Social Editor
I didn't like honey until I started making my own matcha at home (I know, I'm that person). I'm also very fragrance sensitive, and honey is just a tad too sweet-smelling for my taste. Initially, this made me worry about the Briogeo honey hair mask. Although the scent was strong upon first squeeze, it quickly dissipated after washing it out.
And all was forgiven considering how soft my hair was after it dried. This mask definitely lessened the frizz, too. My only concern is how to get every last drop out of the bottle. Won't it get stuck in the bear's ears, arms, and feet? I'll find out, I guess.
Kathleen Hou, Beauty Director
Recently, my hair has been desperately dry. This cute honey bear was supposed to fix that, making my hair seem like it regularly brought a Hydroflask to work and filled it up with alkaline water throughout the day.
And it did! I used it instead of conditioner, as per the directions. It washed out really easily, and afterward my hair felt soft and refreshed, without being limp or heavy. I had volume and moisture, and my hair fell in pretty soft layers, with ends that no longer felt like brittle vegetation used to feed farm animals. The effect lasted until my next wash, so it wasn't incredibly long-lasting but a good short-term fix.
Overall, I would use this instead of my normal conditioner, even though I found the bear's tummy a little hard to squeeze to get out product. But it's cute. (Also, because I know you're wondering: Yes, the photo above includes a macaron that says, "Will you be my side bitch?" My friend used it to ask me to be her bridesmaid, and this is the only selfie I took on the day I tried the mask. But now you know that Laduree will write anything you want on a macaron. And you know my hair looked good.)
If you buy something through our links, New York may earn an affiliate commission.