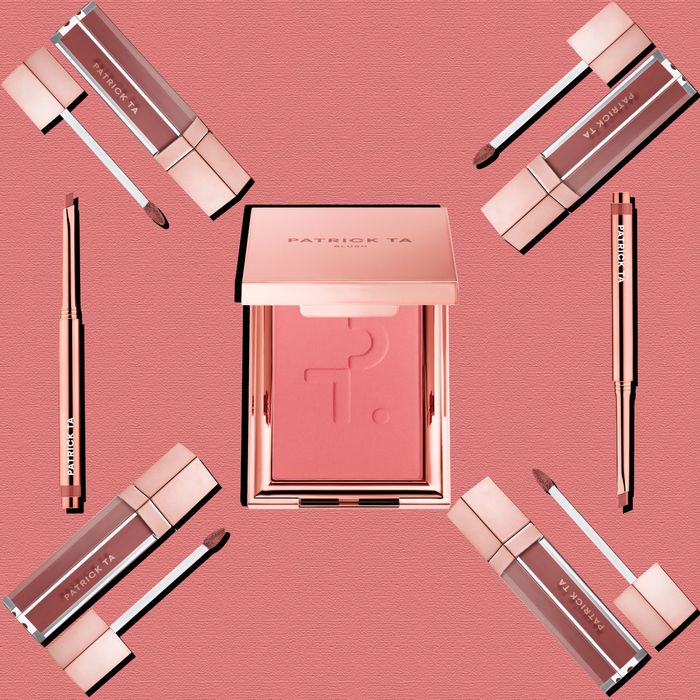 Photo: Courtesy of the Retailers
The monochrome trend isn't just for athleisure sets and cult uniforms; it's made its way to the beauty world, too. Celebrity makeup artist Patrick Ta recently released his second collection, Monochrome Moment, which consists of four lip liners, lip glosses, and blushes all in the same neutral bronzy nude and pinky-coral color families, so your face can wear one cohesive color story every day. Four Cut staffers took the look for a spin by using Ta's similarly toned products on their eyes, cheeks, and lips. Here's how it went.
Nana Agyemang, Social Editor
To be truthful, I don't think the shades worked well on my skin tone. I put on the "She's Seductive" blush and it washed me out. It looked white and didn't add any pink color on my cheeks, which is disappointing because it looked pretty in the packaging. The lip gloss was beautiful and did compliment my skin tone. It was a rosy pink shade that added color to my lips without being over-the-top pink. I couldn't use the lip liner because it didn't show up on me, so I paired the "She's Confident" lip gloss with my own dark-brown lip liner.
I loved the pink rosy shades of this collection, but I don't think it was pigmented enough for my skin tone because nothing showed up but the gloss. I recommend the lip liner and blush for someone much lighter than me and not for brown-skinned women. However, the gloss has become an addition to my lip-gloss collection.
Diana Tsui, Senior Market Editor
I've never been able to find a flattering nude lipstick. I find that most tend to wash me out and leave me looking tired. And I've bugged our beauty director Kathleen countless times for that my-lips-but-better shade, only to have all of them fall short. So when she asked me to try Patrick Ta's monochrome collection, I was hopeful. He's Asian, I'm Asian, he'll know what I'm looking for in a perfect nude, right? Well … sort of.
The collection consists of three products: a lip liner, a matte lipstick, and a complimentary blush. My favorite was definitely the blush. It brightened up my cheeks and made my face feel more vibrant. The liner went on smoothly but I found it a touch too brown until I swirled in the pink lipstick. The combo of the two created a very '90s-inspired nude that everyone said looked cool on me. I'm not sure if I'm used to it — I think my comfort zone is still my dark-red lip, but I could see how someone would love this trio. Would I do it again? Maybe if the occasion called for it, but for now I'm still on the hunt for a brightening, my-lips-but-better nude shade.
Daise Bedolla, Social Editor
The first feeling I had after I took this selfie was surprise. Who is that staring back at me in my camera roll, and how did three Patrick Ta products transform me into someone I don't recognize? Is this what I normally look like? Why does it look like I'm pouting? Did the lip liner do that? I immediately texted several friends and asked them what was happening. "I can't put my finger on what it is," our beauty writer Erica Smith replied. Another said, "That's a nice soft glam. Looks v grown-up." The third said, "Ur lips do look especially … enhanced?"
I still can't figure it out, but once I got over the initial surprise, I was able to appreciate how much I love the blush. I used "She's Adorable" both on my cheeks and lids, a typical move for me. The color is a "golden peach" with a subtle shimmer that's extremely buildable, and I'll definitely be using it in the future, both for work and after work. The lip liner (in "She's Strong"), on the other hand, is a bit too much for me. I already have plenty of lips to work with, and defining them even more made me feel like I had just gotten lip fillers, which is totally fine if you're looking to give your lips a plump look, but it just made me feel self-conscious. The lip crème in "She's Secure" is also not my typical color, but I loved the pointed applicator. I'm keeping my fingers crossed that Patrick will release these in brighter colors — can I get a berry tone, please?
Devine Blacksher, Fashion Assistant
When I first tried these products, I didn't have any foundation on, so the color of the blush and lip liner stood out a little bit more. But when I tried them over my foundation, the blush and lip liner didn't pop at all. In order to get the look in my selfie, I had to incorporate my other blush products to intensify the color in my cheeks. The lip liner was too light for my lips, so you can't see it in this image. But I loved the lip-gloss color! The only con is that it dried my lips out a bit. Overall, the product did not show well on my skin, but the packaging is beautiful.
Kathleen Hou, Beauty Director
When I told Patrick Ta that I "don't really do neutrals," he almost audibly groaned. Why are we even bothering with this, he was probably thinking. I don't do neutrals because I think it requires too much skill to make them look good on your face. I use a bright lipstick to distract from other things I would rather not highlight, like my dark eye circles. A neutral lipstick just doesn't have the same pop.
But Patrick did make me rethink my stance a little. The blush was really
soft and blendable and gave me a subtle sculpt. The lip liner was my favorite; it was super creamy and easy to use to enhance your lips, if you like a slightly overdrawn lip. Instead of washing me out, the colors gave me a more enhanced and polished "no-makeup makeup" look — like a filtered Instagram photo.
If you buy something through our links, New York may earn an affiliate commission.