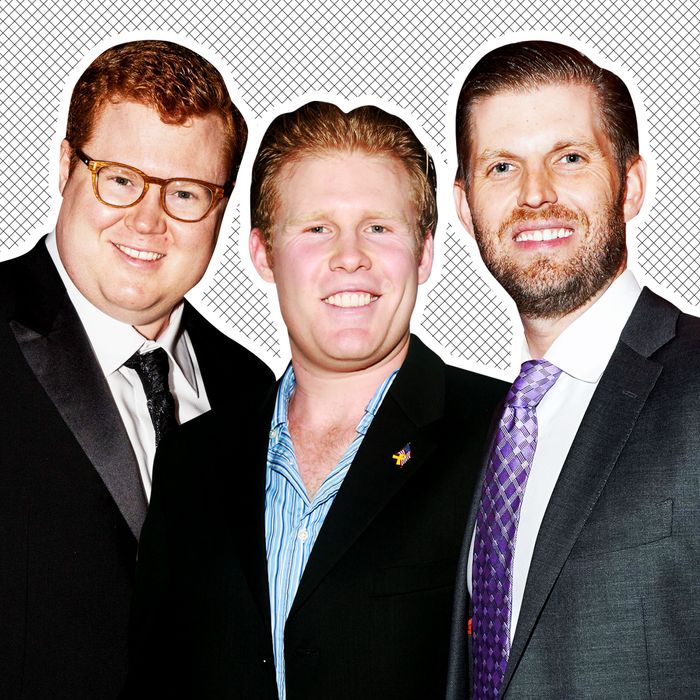 Whose papa is whose?
Photo: Getty Images
Take a minute and look at this picture. Sit quietly with it. Allow your eyes to wander over these gleaming grins, these slicked-back coifs, these smooth foreheads unlined by the pressures of economic instability.
Got a good look? Okay, now ask yourself, honestly: Can you tell these three men apart?
Yes, what seems at first to be a picture of one polo-pony collector at several different hedge-fund networking events is in fact a picture of three different large adult political sons. From left to right: Wyatt Koch, of the conservative billionaire dark lord Kochs; Andrew Giuliani, of the screaming Giulianis; and Eric, Donald Trump's blond offspring.
Do you really need to know who these guys are? Realistically, no. Although their fathers are influential political figures who have consistently worked to undermine American democracy, the boys mostly just sit around and play with all of their inherited wealth. But say one thing leads to another, and you find yourself at a gold-brick juggling party, or a yacht rave, or some other event full of beneficiaries of low estate-tax rates, you don't want to make a gaffe and accidentally ask Wyatt about his White House gig, or Eric about his shirt designs. Not only would it be awkward, you'd run the risk of having gold bricks throws at you, or being tossed into the sea. Given that, we've created a handy guide for telling these big political sons apart.
Andrew Giuliani
Name: Andrew Giuliani
Age: 31
Papa: Rudy Giuliani, personal lawyer to President Trump, and frequent butt-dialer.
Occupations besides "son": As the Atlantic reported in a story this week, Giuliani has worked in the White House's Office of Public Liaison since 2017, primarily helping arrange sports teams' visits, a position which his father insists "wasn't the usual 'hire my kid' situation" (though he concedes Andrew and Trump only ever met because Andrew was "the mayor's son"). Andrew is a former pro golfer, and he and the president reportedly have a close personal relationship and golf together frequently. "He loves POTUS, big time," said one source.
When he is not arranging athletic visits, he makes a dramatic pivot and "fills out his time by serving as the office's representative at White House meetings about the opioid crisis."
"He doesn't really try to be involved in anything," one former senior White House official told the Atlantic. "He's just having a nice time."
His nice-time salary, according to the 2018 White House personnel records, is $90,700.
How to remember him: He is Golf Son.
Wyatt Koch
Name: Wyatt Koch
Age: 31
Papa: Bill Koch, billionaire founder of Koch Industries, the lesser-known brother of the Republican megadonor Koch Brothers, who broke ranks from his siblings Charles and David to publicly support Trump in the 2016 presidential election.
Occupations besides "son": Wyatt is the designer of the brand Wyatt Ingraham, which makes loud, expensive shirts like the "Wall Street,"a short-sleeve button-down that costs $79 and is covered in pictures of bags of money and floating dollar bills. Well, he was the designer of Wyatt Ingraham, at least. The brand hasn't posted on Instagram or Twitter since June, and the Wyatt Ingraham website that those accounts link to is a page offering to sell the domain name. Oh well, at least we'll always have this video.
In 2017, he also sued his ex-fiancée after she broke off their engagement, in order to get back the 8.24-karat diamond ring he had proposed to her with. Koch's lawyers said the ring was valued at $250,000, and also asked for $15,000 in damages. The current status of the lawsuit is unclear. While this is technically not a job, it just goes to show that when you're a wealthy adult son, even breakups can be profitable.
How to remember him: He is Fancy Son.
Eric Trump
Name: Eric Trump
Age: 35
Papa: President Donald Trump
Occupations besides "son": He is also Donald Trump Jr.'s little brother.
How to remember him: He is Eric.