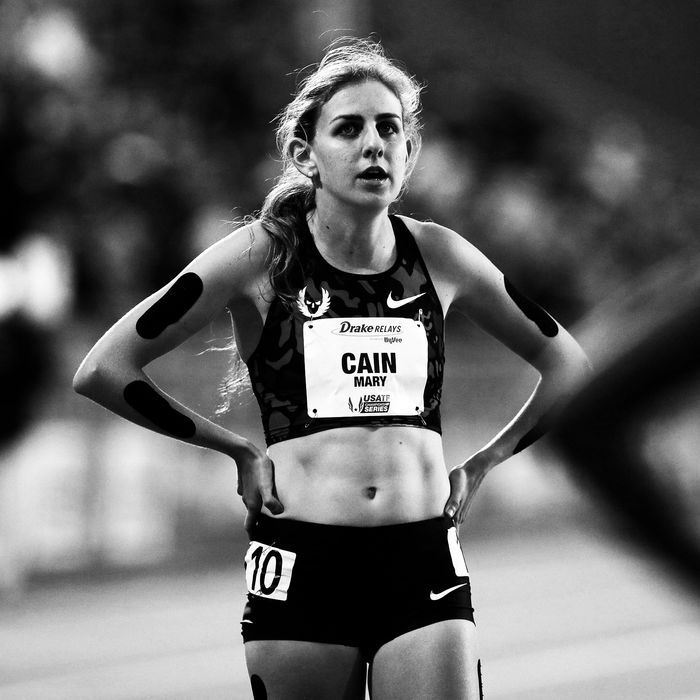 Photo: Charlie Neibergall/AP/Shutterstock
A former world-championship runner says she was abused during her time training at the Nike Oregon Project, a facility run by coach Alberto Salazar. In an op-ed that ran yesterday for the New York Times, Mary Cain, once "the fastest girl in America," says she was "emotionally and physically abused by a system designed by Alberto and endorsed by Nike." Salazar, Cain says, urged her to keep an extremely low weight, berated her in front of other runners, ignored signs that she was in severe mental distress, and caused lasting harm to her body. In the wake of the op-ed's publication, numerous other runners came forward to corroborate Cain's story, and now Nike has opened an investigation into her claims.
Cain began training with Salazar full-time when she was a freshman in college, moving from New York to Portland, Oregon, in 2014 to train at Nike World Headquarters, which was considered the best program in the country. "When I first arrived, an all-male Nike staff became convinced that in order for me to get better, I had to get thinner — and thinner, and thinner," Cain says.
She says Salazar constantly tried to get her to lose weight, creating an arbitrary goal of 114 pounds, and that he weighed her in front of teammates and publicly shamed her if she was not under the mark. She says he tried to get her to take diuretics and birth-control pills to become skinnier. As a result, Cain stopped performing on the track because, she says, she was constantly worried about the number on the scale. She missed her period for three years, and broke five bones during her time in the program, becoming at risk of developing osteoporosis.
Salazar's tactics caused Cain to become suicidal and self-harm, she told the Times. In 2015, she reached a breaking point after she says she was publicly berated by Salazar for supposedly gaining five pounds after a bad race. She says that night she told her coach that she had been cutting herself, and that he and a sports psychologist told her "they just wanted to go to bed." Cain decided then to leave Oregon, and officially quit the program in 2016.
Nike announced it was officially investigating Cain's allegations after several other former Nike runners on Twitter echoed her experience at the hands of Nike Oregon Project and Salazar. One woman, Amy Yoder Begley, said she was kicked out of the Nike program for having "the biggest butt on the starting line."
Olympian Cam Levins apologized to Cain for not looking out for her when they were in Oregon together. "I knew that our coaching staff was obsessed with your weight loss, emphasizing it as if it were the single thing standing in the way of great performances," he wrote. "I knew because they spoke of it openly among other athletes."
Steve Magness, a running coach and author, said that he witnessed Salazar make disparaging comments about women's bodies and jokes about liposuction.
The Nike Oregon Project was recently shut down, and Salazar has been banned from the sport for four years after a doping scandal. But Cain says the problems for women in running and at Nike, which dominates the training and coaching landscape, are much bigger. "I got caught in a system designed by and for men which destroys the bodies of young girls," she says. The Times found other runners who had endured similar conditions in the sport. "When you have these kinds of good girls," said another former Nike runner, "girls who are good at following directions to the point of excelling, you'll find a system that's happy to take them. And it's rife with abuse."
This post has been updated with additional information.