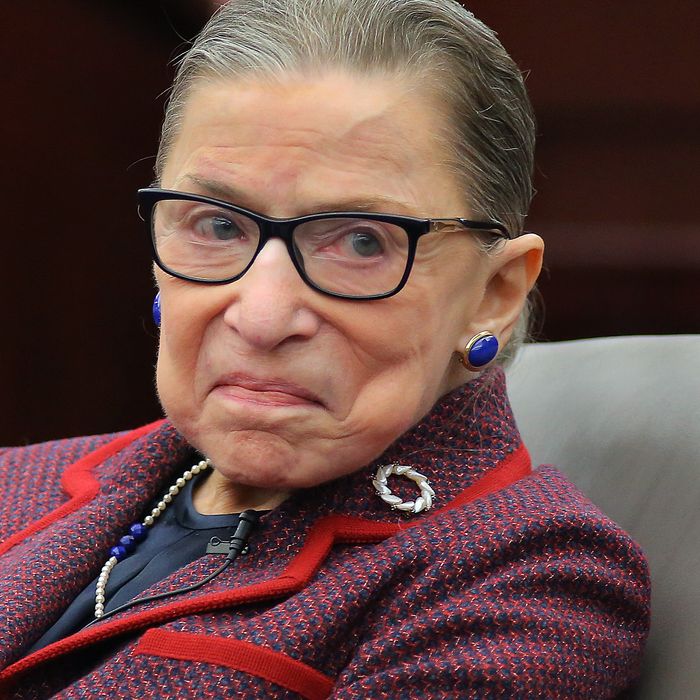 Photo: Pat Greenhouse/Globe Staff/Boston Globe via Getty Images
Every time Ruth Bader Ginsburg has some sort of health scare, it's hard not to feel a little bit of panic and want to keep her protected in a glass case. On Friday, the 86-year-old Supreme Court justice was admitted to Johns Hopkins Hospital in Baltimore, complaining of chills and a fever due to an infection. According to CNN, Ginsburg was treated with IV antibiotics and fluids and was discharged from the hospital today. "She is home and doing well," a Court spokeswoman said. Thank God.
In the past year, Ginsburg has dealt with several health concerns, but still manages to retain her resilience. In August, she underwent radiation therapy to treat a tumor on her pancreas (She has battled both pancreatic and colorectal cancer in the past), and in December of 2018, she had surgery to remove cancerous nodules from her lungs. A month prior to that, she was hospitalized after a fall in her office caused her to fracture three ribs. And just last week, she reportedly missed a day in Court due to a stomach bug.
Ginsburg is famously known for keeping herself in shape. She began seeing her personal trainer, Bryant Johnson, after undergoing chemotherapy for colon cancer in 1999. With Johnson's guidance, she has adhered to a twice-a-week workout consisting of push-ups, planks, squats, and dumbbell weights.
"I've always said I'll stay on this job as long as I can do it full steam," Ginsburg said at an event this past summer. "I was okay this last term. I expect to be okay next term. And after that we'll just have to see."