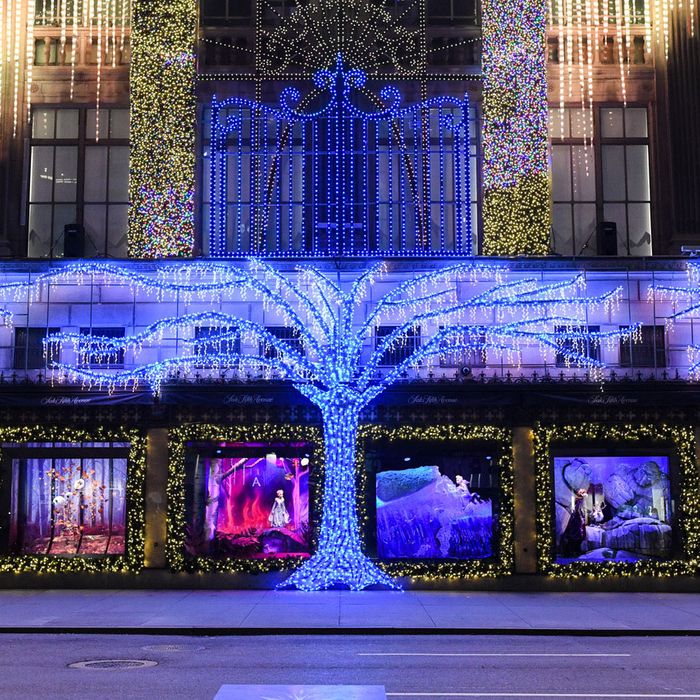 Photo: Courtesy Saks Fifth Avenue
It's not even Thanksgiving yet, but if you happened to be taking a stroll down Fifth Avenue on Monday night, you'd think it was already Christmas.
Saks Fifth Avenue rang in the season with its 95th annual holiday window reveal. The store collaborated with Disney on windows inspired by Frozen 2. Idina Menzel, the Broadway icon who's starring in the soon-to-be released film Uncut Gems, was there to sing a song from the film's soundtrack. (She's the voice of Elsa.) She was joined by a 50-person choir and a cast of Disney entertainers who took over the street for the duration of the performance.
Nicky Hilton and models Chanel Iman and Coco Rocha sat on the bleachers outside, watching the show with their families. A crowd of passersby gathered to see the grand finale as well, which included a ten-story-tall theatrical light show across the Saks façade, complete with fireworks.
There was one person in the crowd who was far more excited than the rest, though: Real Housewives star Dorinda Medley, who happened to be seated next to me. (You might know her as the "Not well, bitch!" progenitor.) Before the show even began, Medley was spilling the contents of her gift bag all over the street as she clapped with glee. "You're gonna cry," she leaned over and warned me. "I cry every year!"
For Medley, the Saks holiday window reveal is the "highlight of the season." That and the "Palace Hotel," she said. (I think she meant the Plaza.) She's been coming to the Saks window reveal for years, maybe five in a row. "I'm a professional," she declared.
So I asked her: Any holiday gift-giving tips? You know, from a professional. "This, year I'm telling everyone: We all have so much stuff," she said. "I realized it this year after redoing my place in the Berkshires. We have so much stuff! It's too much. I'm just giving a donation to everyone's favorite charity."
This seemed like good advice. As for where Dorinda Medley is spending this stuffless holiday season, it's definitely not New York. "Never!" she said. She'll be at her "place in the Berkshires," also known as Blue Stone Manor. How do we get an invite?