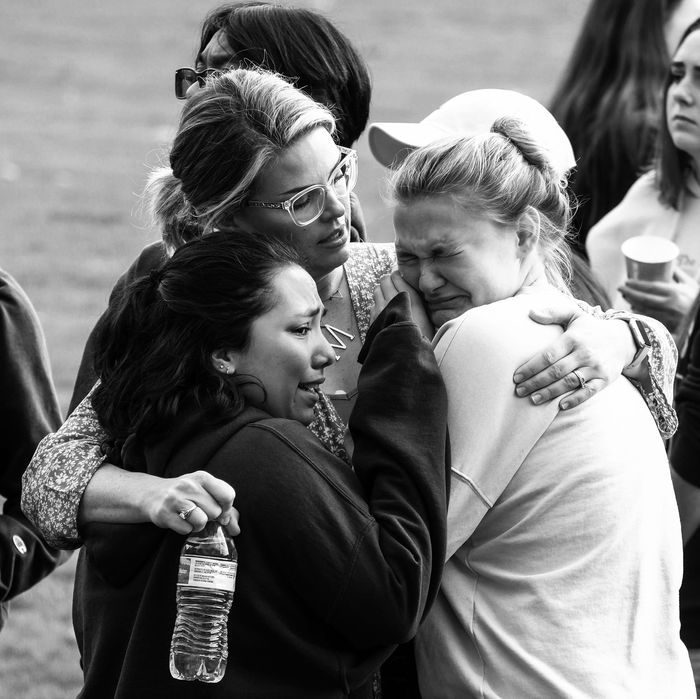 On November 14, a gunman opened fire at Saugus High School in Santa Clarita, California.
Photo: Ringo H W Chiu/AP/Shutterstock
On Thursday morning, a gunman opened fire at a high school in Santa Clarita, California, killing two and wounding three others, the New York Times reports. The story is still developing. Here's everything we know so far.
What happened?
At approximately 7:35 a.m. local time, a 16-year-old student wielding a .45 caliber handgun opened fire at Saugus High School in Santa Clarita, which is just north of Los Angeles, authorities told the Times. Per CNN, the gunfire lasted 16 seconds, and ended with the gunman shooting himself in the head. As of Friday afternoon, a motive has not yet been determined.
How many victims are there?
According to officials, a 14-year-old boy and a 15-year-old girl were killed, and three other students were injured. On Friday afternoon, the Los Angeles County Coroner identified the female victim as Grace Anne Muehlberger; the male has not yet been named.
What do we know about the shooter?
Per the New York Times, the primary suspect — a male student at the school — is in custody and currently being treated for a gunshot wound to the head, according to Sheriff Alex Villanueva of Los Angeles County. Authorities have identified him as Nathaniel Berhow, who has been described as a quiet kid who came from a troubled home. (Per the Los Angeles Times, Berhow's father was arrested in 2015 on suspicion of attempted battery on Berhow's mother; in 2017, his father died from a heart attack.) We also know the suspect's birthday: November 14, the day of the shooting. He is currently in grave condition.
How many school shootings have there been in 2019?
According to gun-safety organization Everytown, at least 84 shootings have taken place on school grounds in 2019, at least 30 of which have resulted in injury and/or death.
In an interview with the Times, Jeremy Thompson, a father of two Saugus students, said he learned of the shooting after his younger son called him. His son then continued to send him updates via text, which Thompson found distressingly short and unaffected. "You would expect them to be more affected," he told the Times, "but it's just the reality that has plagued kids for so many years at this point." When he arrived at the school, though, Thompson said students were "huddled together in tears."
This post has been updated.