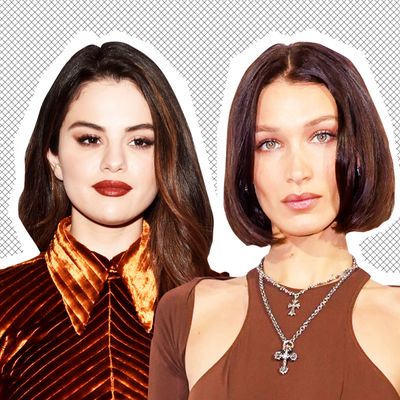 There is no reason why two women who both dated the same guy can't be friends or at least friendly on Instagram, but in the case of Bella Hadid and Selena Gomez, their social media presences are too closely surveilled not to be read the wrong way, seeding suspicion.
So, here's what happened. TMZ reports that Gomez recently commented on a picture Hadid posted of herself, with the word "Stunning." Then Hadid deleted the post for some reason. Gomez reportedly learned of the deletion through a fan page, responding "that sucks" followed by a frowny-face emoji.
Some fans interpreted this interaction as a case of bilateral shade. Gomez and Hadid both dated the Weeknd, seemingly in succession. Hadid has dated the Weeknd a few times, ending the first leg of their relationship in late 2016, and Gomez dated him from January 2017 until October of that year, which was also the year the two women unfollowed each other on Instagram. Gomez followed Hadid again in the beginning of the month as a peace offering. Hadid has yet to return the favor, but she did like one of Gomez's Instagram posts in May, which many interpreted as a sort of détente.
Gomez has since clarified in the comments section of a fan's Instagram account: "I shouldn't of spoken without knowing the truth. I'm sorry. Please don't be hurtful. She is a wonderful person, and it was all a misunderstanding." Sources told TMZ that Hadid reached out to Gomez over the weekend to quell any potential drama.
As I said, Hadid and Gomez don't have to be enemies — they also don't have to like each other. What we do know is that their stances on their ex's ex are unlikely to be explicated in an Instagram comments section.