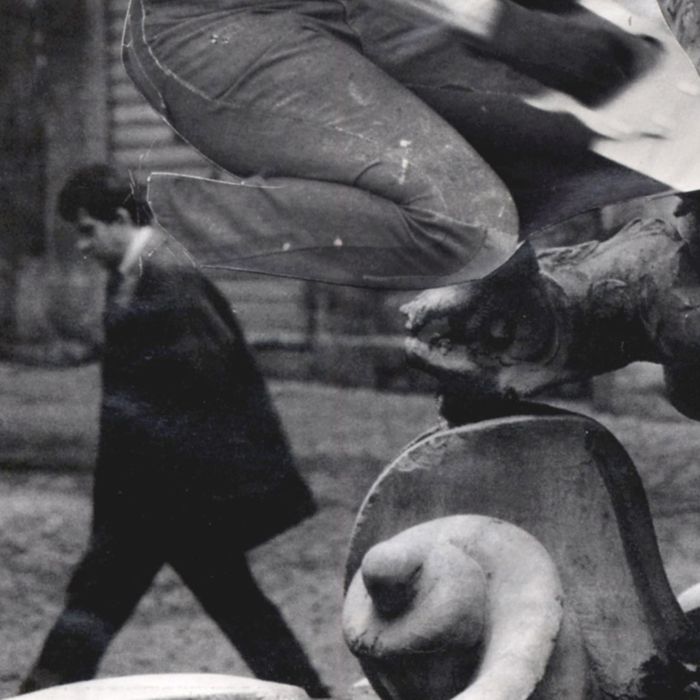 Photo-Illustration: James Gallagher
This week, a woman masturbating to various celebrities while juggling kids and a glamorous job: 43, divorced, Soho.
Day One
9:00 a.m. It's my first time waking up at J's house. Why is it that the nicer the apartment, the less I like the guy? I really wanted to like this one. We met on Bumble about six weeks ago. I've never been more than "meh" about him.
9:30 a.m. J wants to go to brunch. I'd rather go home. I'm hung-over and need some me time. But he's already thinking about trendy spots for us and he's excited. I don't have the heart to leave, but it makes me feel kind of repulsed how into me he is. I should be thrilled. There is nothing not to like about him … handsome, successful, kind, funny, smart, etc. He embraces that I have kids. Speaking of, they're with their dad this weekend. I've been divorced since my kids were 1 and 3. Now they're 6 and 8. J keeps trying to meet them but I'm resisting. I already know this guy is probably not for me, so why get him excited about being part of a family? He's the kind of guy who really craves family. Again, it makes him pathetic to me.
11:30 a.m. Trendy brunch is over, and after two Bloody Marys each, he's trying to get me to go back to his place for an afternoon delight. He used that term. Ick. Sex with him is actually good, though. He's got a big, strong cock, and he knows how to use it. I'd say the sex is the best part of seeing him, but I have to ultimately forget it's him I'm fucking in order to enjoy it.
4:00 p.m. I'm finally home after my "afternoon delight." Bless this clean, quiet apartment and my favorite Madewell pajama set.
9:00 p.m. Four episodes of The Crown later, I turn my lights off and go to sleep. J has texted a few times, and I'm too tired to text back.
DAY TWO
10:30 a.m. Sunday-morning yoga class. I actually hate yoga, but I do it for the yoga bod. Then my ex drops off our kids. I adore my kids. They are the two greatest loves of my life. We've decided to go to Central Park to play tourists for the day.
2:30 p.m. We're getting coffee and hot chocolates by our apartment when M walks in. M is, I think, a local single dad. I have never seen him with a partner. There is a chance he's gay, but I don't think so. I have a big crush on him. I ask him what his Thanksgiving plans are, and he says he's taking the kids upstate. He never mentions a partner. I once said "my ex," so he knows my status, but he remains a mystery. I'm going to pretend J is M next time I fuck him. Although, I'd rather not fuck or see him again, honestly.
6:00 p.m. My kids are watching a movie, so I do some online dating. I'm not really interested in casual sex. I'd like to find someone to have a serious relationship with, but that someone has to be amazing. I won't compromise. I am content with my life as is, so I would rather be alone than with someone I don't totally fucking worship and adore.
9:30 p.m. Take out my vibrator and let my mind drift to a threesome … me, M, and some imaginary babysitter who knows how to make us all orgasm our brains out.
DAY THREE
9:00 a.m. Poor J … so many unreturned texts from him to me. I just can't.
10:30 a.m. I'm at work. I have a senior position at a popular beauty brand. It's a great job. I'm proud of my career. Sometimes I wish I worked at a place that wasn't 99 percent women, but then again, the female camaraderie and empowerment lifts me up each and every day.
3:00 p.m. I have a date tonight. It's a blind date my cousin set us up on. I saw a picture of this guy, and he looked cute and cool, even though his mouth looked a little … large? A little horselike, to be specific.
8:30 p.m. I say "Good night" to my kids and leave them with our neighbor, who's their favorite babysitter and — to be clear — not even close to the fictional babysitter of my fantasy life.
9:00 p.m. The blind date walks into the wine bar. He is exactly as I described. Cute, cool, and with a distractingly big mouth. I have one glass of wine and then pretend my babysitter has an early curfew.
DAY FOUR
8:00 a.m. I'm at a plastic-surgery consult. I think I want a breast-lift. The issue comes down to the price tag, not any concern over feminism. If you want fake tits, and can afford it, and are responsible about it, buy the fake tits. Fuck it! We talk about scheduling this during Christmas break, since my kids will be away with their dad. I'd totally tell them about my procedure, but I don't want them to see me all bandaged and bruised.
10:30 a.m. Work is exciting today because we have a celebrity in the office to promote her new campaign. She and I hit it off last time she was here, and I regretted not asking her if she wanted to hang out, but celebrities are so weird … I don't want to push it.
10:30 p.m. Long work day (the celeb turned out to be a pain-in-the-ass diva, so I'm glad I didn't embarrass myself by "keeping it real" with her). And then, a long parenting day. I just want to masturbate to a celebrity and go to bed.
DAY FIVE
12:30 p.m. I go to a trendy sushi place for lunch with a colleague and the hottest men in suits are sitting next to us. Like, I want to bone all these men. It's crazy. Two of the four have wedding rings on. The others could very well be divorced. My colleague and I asked them where they work — they're hedge-fund guys. Shocker! These are the types of men who cheat on their wives and girlfriends. My ex had an affair, which is why he's now my ex. Other than cheating on me (over the course of two years), he was a good husband and a great father.
5:30 p.m. I'm on the subway to watch my kid perform in a school play. I keep to myself at these functions. The moms at his school freak me out with their uptightness, and the dads at the school, well … I've slept with one or two of them, but generally I like to keep it church and state.
8:30 p.m. I'm online dating while my kids finish their homework. So many shady guys. I match with one divorced dad who looks like a bad version of Jon Hamm. I could get into that. He immediately asks me if I want to get a coffee tomorrow. Coffee? No alcohol? And tomorrow? Okay, why not.
DAY SIX
8:00 a.m. I book a prework blowout. I need blowouts to have good dates. It's just a fact. This place is a pretty bad scene in general but I have a girl there who knows my hair and I do work emails the whole time.
2:00 p.m. So I'm sneaking out of work for this coffee date. Bad Jon Hamm is a freelance photographer and he has a shoot nearby so that's why this weird plan was suggested by him. I'm already not so into the freelance-photographer thing, but we'll see.
2:30 p.m. Okay, he's hot as fuck. And very nice.
4:00 p.m. I'm back at work and damn, I liked that guy. His job is pretty fabulous, actually. And he seemed different. Grounded, yet sexy. We agreed to meet up again soon, but let's see if he texts and makes it happen.
7:45 p.m. He texts and makes it happen. Dinner next week. I'm really, really, really looking forward to it.
9:30 p.m. I get off thinking about bad Jon Hamm.
DAY SEVEN
9:00 a.m. I have a little extra energy today because now I have a crush. I like this feeling. I won't go psycho texting or stalking him or anything, but it's nice to have something to look forward to!
3:30 p.m. That celebrity from the office the other day is causing crazy drama. Apparently someone here tweeted that she was in the office and it violated some contract and now I just hate everyone.
7:00 p.m. My kids and I are at our favorite Italian place. I get a glass of wine and listen to their stories. Bad Jon Hamm has a son who is around the age of my son. I let my mind wander to the possibility of blending our families. Chances are this one will fizzle like most relationships do, but it's nice to have hope.
Want to submit a sex diary? Email sexdiaries@nymag.com and tell us a little about yourself.