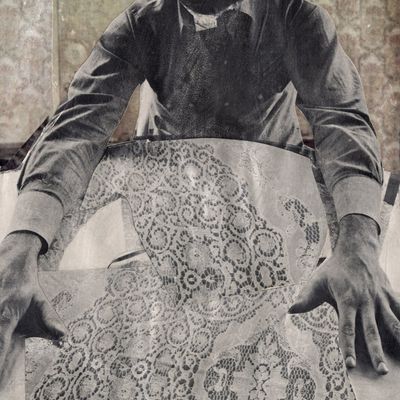 Photo-Illustration: James Gallagher
This week, a woman sexting her West Coast crush during her mommy book club: 47, divorced, Brooklyn
DAY ONE
6:15 a.m. Alarm goes off. I stretch and moan and my shirt pulls up over my ribs and half of my left breast. I take a picture and save it for later. Too early to send to the West Coast. I get up and get breakfast going for my daughters.
12:00 p.m. I work at a café as a baker and today I'm finishing a special order for chocolate bread. I wish it paid more but I truly love baking and feel as if I'm creating happiness for others to swallow and I feel good about having that effect on complete strangers. Speaking of, better send that picture. He must be awake by now.
3:00 p.m. West Coast pops a heart on the image and sends a dick pic in response. He moved back to the West Coast four months ago and I wasn't expecting us to stay in touch but here we are. It was the best sex I've ever had, and it lasted two years, and we never fought and never really went out in public and it was the perfect crime. His job brought him to NYC for a two-year assignment so it was the ideal setup for me. It would always stay casual, it was sex only, and it was temporary. Keeping things casual for me is a must for now as my ex-husband has a revolving door of new girlfriends — so when it comes to my daughters, I like to keep it just us girls.
West Coast is ten years younger and man, do I love the men in their thirties. (But seriously, I kind of love this one.) I zoom into the picture to get a better look to see if there is any lube on his hand or perfect dick. If so, I'm sure to get a video in a few minutes and will go into the bathroom for viewing, but it's dry. I tuck my phone away and get back to work.
5:45 p.m. Making dinner and get a hey you text from N in Tribeca. We met in theater group last year. He stared at me so hard the first meeting that I felt myself getting turned on from across the room and prayed he was single. He's poly and a model and 14 years younger and he worships me. I don't get it but I don't question my good fortune. I'm not into the poly thing but he's so gorgeous and I always needed a buffer to be sure my heart didn't fall for West Coast, so it was also a strategic move. He's been in a light rotation for the past year. I send him the picture from this morning and he does his usual GAH! and tries to set a date for this weekend. I tell him I might have my girls (lie) and will let him know. I also send him the picture of the chicken pot pie I'm making and he tells me I'm amazing. He doesn't have kids and is completely blown away by the most mundane parenting practices. It's adorable.
DAY TWO
8:30 a.m. I'm putting out more brioche buns in the front of the store and see Hot Dad come in with his toddler. His other daughter is in the same class as one of mine and I've been eyeing him since school started, hoping he's single. But he's married to an attorney who has condescending down to an art form. I see her at the gym sometimes and wonder why she's not home fucking her husband for cardio instead of using the damn elliptical machine.
But people probably thought the same about me when I was married. I can't believe I used to judge couples who divorced with young kids. I just found it ridiculous that they couldn't just play nice for a bit until the kids were grown but when mine were five and three, I decided to pull the plug to save myself and once I got beyond judging myself, the rest was smooth sailing.
3:00 p.m. West Coast texts me a video of him stroking and slapping his dick and it makes me wet within seconds. I watch it over and over as I stand in the pick-up line at my daughter's school.
9:30 p.m. This is usually the time I'd sneak out to get laid after my daughters fall asleep. I'd go over to West Coast's place for 30 minutes or an hour at least three times a week. I'd leave a note on my bed that said Went to get milk. Text me if you need me in case either one woke up. They never did. I got really lucky. I put on my glasses and open the book I need to finish for book club later this week. West Coast likes me in the glasses. I quickly take off all my clothes and take a few pictures to send to him but I keep the glasses on. I'm never gonna finish this book.
DAY THREE
10:00 a.m. At work and swiping on Tinder. I have 164 matches from the past few months and haven't responded to any of the 58 messages. I'll know him when I see him. That's how it was for West Coast. Found him on Tinder and knew immediately. First and only conversation I've ever initiated. None of these guys are doing it for me. I swipe right simply for the dopamine. Or ego boost. I'll never text or meet any of them.
5:15 p.m. Dinner at my parents' with my girls and it's all laughter and John Denver playing in the background. We play Sorry and eat apple crisp and I get a text from West Coast that says Remember when I made you cum on the Metro? Someone tells me it's my turn and I'm flustered and laughing and my cheeks are red and I love it. My mom knows a bit of what's going on and she gives me a knowing look and I make an exaggerated effort of putting the phone across the room and we get back to the game.
DAY FOUR
9:00 a.m. Sneaking in some reading while I'm at work. I want to enjoy this book and savor it but book club is tomorrow and I'm speed reading.
11:15 a.m. I'm telling my therapist that I'm convinced I'd have the book done if I wasn't so obsessed with taking pictures and videos and doing these ridiculous exchanges with West Coast and she tells me it's okay if I love him. I laugh at her and tell her that it was just sex. She looks at me and tells me again it's okay. I look away and she tells me again slowly and kindly, It's okay if you love you him. It's fucking Good Will Hunting. It's not your fault. It's not your fault. And I start to cry.
3:00 p.m. N is pushing hard for this weekend and texting daily. It's funny that he's a goddamn model with an absolute perfect body — not too muscular but zero fat and the hugest dick I've ever had and yet, I'd rather have the doughy chef on the West Coast with the medium dick.
10:15 p.m. In bed and should be reading but I am looking at the West Coast's Twitter and checking out all of his likes and comments. He has no idea I do this. I get a surge when a new like comes up right while I'm on and looking. Like I'm with him somehow. I text N that Saturday works and then put the Do Not Disturb on my phone and put on a meditation to fall asleep to.
DAY FIVE
6:15 a.m. Shut off my alarm. Dick pic came in at 2:34 a.m. from West Coast and it's a good one. I zoom in and examine it for a few minutes, not only that perfect medium dick of his but any other small details of the background. Like what's on the counter. Is that a book? Aww, look at the tan lines on his feet from his sandals.
5:00 p.m. My daughters are with their dad until Sunday. I grab some biscotti from work and pick up some Bailey's for book club. I'm 87 years old right now.
8:45 p.m. Thankfully book club is more about eating and drinking than talking about the book. Even though most of our daughters aren't even friends anymore, we have a bond from surviving elementary and middle school together and I really do like all of them. I'm the only single one out of the group and they grill me for salacious details of my dating life every chance they get.
9:35 p.m. I get a picture from West Coast. He's driving home from work so it's a selfie in his car. Just his face. That sweet face. Golden Gate in the background. Fuck California.
9:50 p.m. More pictures coming in of him driving but now with his hard dick out. I tell him to stroke it. He wants to FaceTime. I want to watch you play with yourself. I wanna see that wet pussy of yours. I tell him later because I'm at book club but then make my way to the bathroom but someone is in it.
10:25 p.m. I race home and throw on some bronzer and lipstick. He cannot FaceTime anymore but has asked to see me undress slowly and touch myself, so I do. I never owned a vibrator until a few months ago. I only masturbate if I can't fall asleep or if he wants to watch me. I masturbate a lot these days.
DAY SIX
8:45 a.m. God, I love sleeping in. Will get up after checking Twitter and Instagram. It's the weekend and the world is my oyster.
1:30 p.m. N texts that he wants to come over early and hang out and then grab dinner and sex only if I 100 percent want to. He knows I'm hung up on West Coast and will let me talk about it and just massage my back and go down on me if I want. Seriously, I don't understand why I'm so spoiled by him.
5:15 p.m. Early-bird dinner. N and I walk to get a pizza. I drank some tequila before he got here so that I can hopefully get horny for him. Women check him out as we go down the street but he's only looking at me as we walk and talk. I somehow manage to roll my ankle coming off a curb and it hurts and I feel like an old granny as I'm limping along and he's so sweetly concerned and he steps in front of me and says "Get on" and he gives me a piggyback all the way home, all while holding our pizza.
7:30 p.m. Must be the tequila but I sob after the sex and just want West Coast and I tell N I'm so sorry for being so dumb and he's lovely and wants to listen and help and give me more oral. Sweet Jesus, he's good. I want to return the favor so his huge dick is in my mouth and he's extremely happy about this but it doesn't fit like West Coast.
11:15 p.m. N is gone and I'm exhausted but still drunk so I put on a fishnet bodysuit and make a video for West Coast.
DAY SEVEN
7:15 a.m. God, I love tequila. Not even remotely hung over.
3:45 p.m. Waiting for my girls. Checking West Coast's Twitter. I smile because he liked the same dumb dog video I did. I think about what my therapist said and I still don't think I love him but it's something. I check the flights to California just out of curiosity and a cheap flight pops up. My heart is thumping like crazy and I'm getting my credit card out. Just for a weekend. No big deal.
Want to submit a sex diary? Email sexdiaries@nymag.com and tell us a little about yourself.