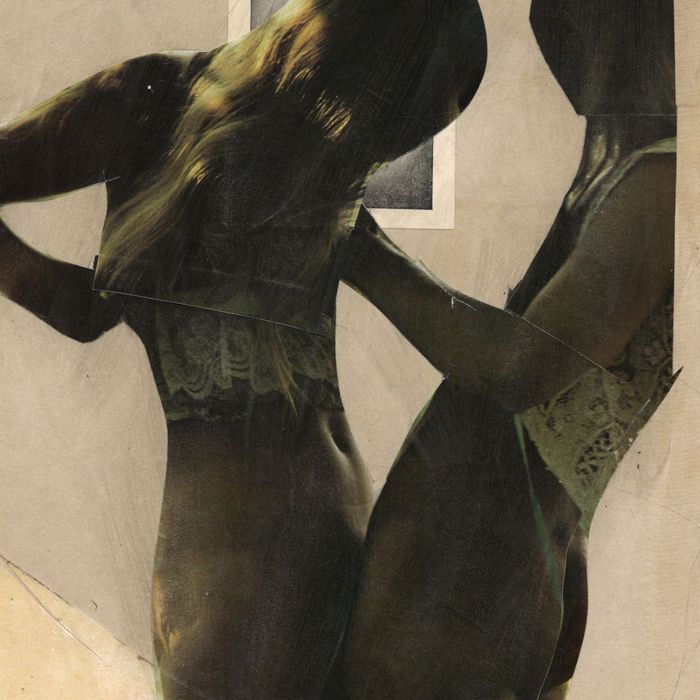 Photo-Illustration: James Gallagher
This week, a woman has a threesome and goes on a date with one of her first female partners: 29, queer, single, New York.
DAY ONE
1:30 p.m. Filling in my colleague/friend who works on the West Coast about the latest happenings in the New York office. I used to have a friend here I told everything to, but he's been giving me radio silence lately and I feel very, very alone.
6:00 p.m. I dated my ex for six years, and lived with him for three. I was unhappy for a really long time before finally getting up the courage to end it — my plan was to move abroad and start a new chapter. Then I got offered my dream job producing a popular television drama and decided to stay in New York.
DAY TWO
10:30 a.m. I get a text from my friend V, whom I've known since college. My ex was actually our professor. I had reached out for professional advice three months after graduating, which escalated to G-chatting almost daily. I told him everything about myself, including that I was a virgin. He told me everything about himself, that he was a widower who hadn't seen anyone seriously since his wife died. I flew out a couple months later to see him, thinking it would be a one-weekend stand. 18 months later, I told him I loved him and convinced him I was worth more than a regular cross-country hookup.
He promised we would live in the same city, but it took a lot longer than expected. I was exhausted by giving up so much of myself to make him more comfortable and happy. He said he hated New York and feared living too far from his family. I eventually broke up with him, and he told me he'd planned to propose just days before. He moved back to the Midwest, but this past May he moved back to New York (shocking me and everyone we knew). All I wanted to know was where he lives so I could avoid it, and according to V, the answer is my neighborhood, minutes away from my apartment. This feels insane. I'm pretty sure he hates me, so why on Earth would he choose to move back to my neighborhood?
8:10 p.m. I have my second date with R, whom I met on Bumble. She's the second woman I've ever been on a date with. I only recently decided to come out as queer, and only to a few trusted friends. It feels like not a big deal, but also not something I feel totally clear about yet. I've been interested in the hypothetical of dating women for much of my twenties, but really invested in the idea over the summer.
11:30 p.m. We totally lost track of time, and it's past our bedtimes. We leave the bar and I walk with her to the corner, where she asks to kiss me. She is an amazing kisser. We are running our hands through each other's hair, and it's so delightful. We part ways, and I smile all the way home. I've very drunkenly had sex with one woman before, but I think R is the woman I want to have my first real, sober, and romantic sexual experience with.
11:45 p.m. I take out my vibrator and think about R. How much I use it varies week to week, and generally I find that I'm far more likely to come when using it than with a partner. The real test in my sexuality will be if I do actually enjoy having sex with a woman while being totally aware of what's happening.
DAY THREE
6:30 a.m. Woke up after a series of dreams about R, including one which felt so real I was surprised I didn't find her next to me. She's so smart and kind and genuinely gives a shit about making the world a better place, particularly when it comes to our very broken education system. I can't wait to see her again.
7:30 a.m. Despite a late night, I make it back to the gym this morning. Pretty proud of myself for pushing through it, especially because I've got another long day and late night ahead.
4:05 p.m. I leave work early to clean my apartment. I've got another date tonight, and he's definitely coming home with me.
7:30 p.m. My date, B, is late and the first 20 minutes are always a little awkward. But by one drink in, we're back to our banter and back in the groove again. It's our fourth date, but we've already got several plans for the next month. We also met on Bumble, which has been my app of the fall season. One at a time is about all I can handle.
I guess all these plans mean we are dating now? He asked what I was looking for, and I said, "I am open to letting things happen. If dating becomes a relationship, great, but I'm not in a rush for anything serious." He is pretty new to dating and made it clear he wanted to continue to play the field and not be something serious. Fine by me.
10:30 p.m. B suggests we get another drink, and I suggest we go back to my place to have a nightcap and watch The Good Place. I genuinely have a good time when we're together, and it's hard not to like him when we have so many things in common. I can't see us being more than casually dating, but it's fun.
11:15 p.m. Despite getting out glasses of bourbon and starting the show, once we sit on the couch we almost immediately start making out. Our hands are all over each other, quickly peeling off clothes. Eventually we move to the bedroom, and pretty quickly get down to actually having sex.
The condom breaks really early, but no big deal, I have an IUD, and we have both been tested. We've slept together on every date, always multiple times. He's okay in bed, clearly still figuring some things out. Any position that's not missionary is interesting to him but he tends to slip out and have to keep repositioning, which is frustrating.
Ultimately, we always figure it out. We both come.
DAY FOUR
7:00 a.m. I wake up and turn over to him. We slowly move from wake up kissing to more sex. B suggests we just stay in bed and skip work, but I tell him to go. I really do need to go into the office even if I won't have full brain function today. I'm completely exhausted.
11:30 a.m. I've had three cups of coffee so far and I am struggling. But I have to find a way to get my energy up … because I'm going to my first sex party tonight.
2:00 p.m. Text my friend E to ask if she can come over to my place before we go to the party. I'm so glad I'm going with someone who has been to one before. She used to be a fetish model and really live in the party scene. Can't think of a better wing woman.
8:30 p.m. E comes over, and I'm blasting music to get us ready. I drink last night's bourbon and get us each another drink. I need her outfit approval, which is a maxi dress made of tulle and a high-waist bikini. You can see almost everything. I'm not daring enough to be totally bare, so I still wear a bra underneath.
10:30 p.m. We arrive at the party and E takes me on a walkthrough of the "playroom," a large curtained-off space in the loft filled with mattresses and sex toys and bowls of condoms. So many naked bodies everywhere getting it on to varied degrees. I am so excited to be here and for the possibility of partaking. My eyes are on the hunt for a partner.
12:00 a.m. A couple has been eyeing me all night, coming up to me separately and flirting with me. They ask if I've ever been in a threesome before, and I haven't. We all take turns kissing and then they invite me back into the playroom with them. We find a little tent area that's unoccupied. She and I give him a blowjob together. There's a vibrating saddle in the room, and they encourage me to ride it while they control the vibration settings. It was intense in a way I wasn't expecting. I definitely don't need one at home, but it felt incredible.
DAY FIVE
12:15 p.m. My friend L is in town, and she hasn't yet had New York pizza. We meet up in Hell's Kitchen to correct this injustice before going to see the Mean Girls musical.
7:30 p.m. I take L to a tiki bar in my neighborhood. The one and only time I've been to this bar was on a date last year, and he lived a block away. His voice was weirdly high pitched and he was shorter than me, which generally I find unattractive. But we had incredible sex. It was one of the best one-night stands I've had in the last year of sex-ploration.
11:00 p.m. We're ending our night at a different bar and the bartender is super chatty with me, specifically. Is she flirting with me? I can't tell — I'm still learning. After we pay, she presents us with shots of apple brandy. The bartender says she hopes I'll return, so I'll definitely go back to see her.
DAY SIX
6:30 p.m. When I walk into the bar to meet R, I almost don't see her. We chat inside for a bit, catching up on our days, until the rain slows down and a table outside opens up. She is so pretty, it's ridiculous. I ask if I can kiss her. Kissing girls is so soft and fun and delightful. It feels so different from kissing men.
9:00 p.m. She offers for us to go back to her place, which is just around the corner, and clarifies that she doesn't want to go beyond just kissing. Fine by me. She's been out as a lesbian since college, and she knows I'm newly out, so I plan on letting her lead the way.
DAY SEVEN
1:00 p.m. I want to text R to thank her for yesterday and maybe schedule a date for when she returns. Is she all I can think about because she's my most recent experience?
5:00 p.m. I meet a friend for a couple of drinks and tell her I'm dating women now. She's surprised but happy for me, and asks if I'm seeing anyone. I spend the next 20 minutes gushing about R.
9:00 p.m. I text R and thank her again for a great night. I lie in bed thinking about what I want our next date to be. I want this to become a serious thing. As much as I've enjoyed going on dates and exploring my sexuality, dating is exhausting. I think I'm finally ready to fall in love again, and I hope that I'll be able to fall in love with her.
And better still, that she'll love me back.
Want to submit a sex diary? Email sexdiaries@nymag.com and tell us a little about yourself.