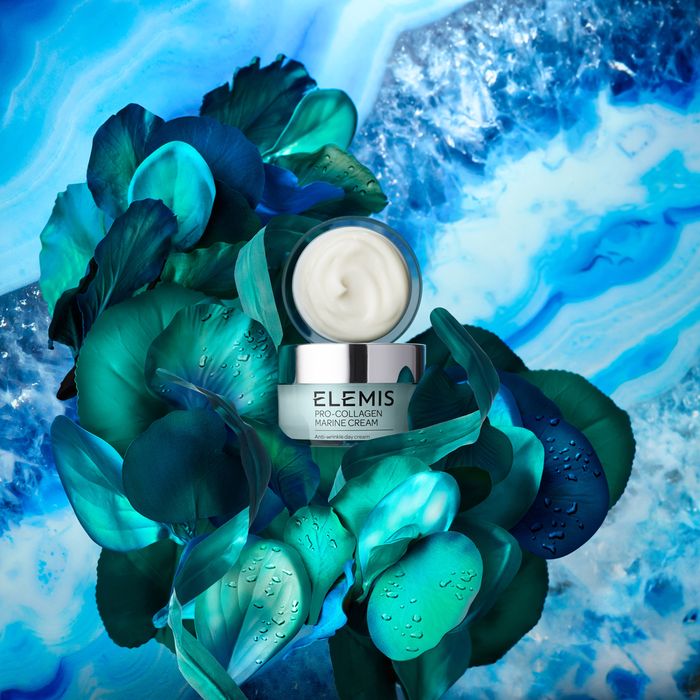 Photo: Courtesy of Elemis
There are some products you keep turning back to over and over. The jeans that fit you just right. The shoes that gives you a little extra height without killing your feet. And if you're lucky, the skin care that leaves you looking like you're healthy and hydrated, like you're fresh every day without any fine-line-inducing stress in the world.
Elemis Pro-Collagen Marine Cream helped give me that gift. Around the world, someone buys one every 9 seconds, and for good reason. I used the moisturizer for almost a month when my skin was feeling (and looking) fatigued, and it helped smooth out the fine lines that were creeping up, kept my skin looking less parched, and even left me feeling glowy again. Basically: do yourself a favor and try this out.
The moisturizer felt like a keeper for a few reasons. First, it has a gel-cream texture that doesn't weigh down your complexion (you only need a pea-sized amount for the face, neck, and décolleté), but it feels substantial enough for colder, windier days. Before using Marine Cream, my skin was alternating between flaky on chillier days and oily and congested on warmer days, never really looking fresh and smooth either way. (I was commonly getting the line "you look tired," which is never a good sign.) This moisturizer helped get my skin to an equilibrium where I felt hydrated and dewy, but not shiny. Win!
Second, the Marine Cream ingredients are designed to hydrate skin in a few complementary ways, while visually reducing fine lines. The formula contains a trio of algae — if you want to know: Padina pavonica, Chlorella vulgaris, and Porphyridium — that help attract water, help support smoother skin, and help maintain the skin's moisture barrier. Years of sarcasm and side-eying have promoted some fine lines on my forehead and between my eyebrows, and recent stress wasn't helping my case any. After about two weeks, I noticed those lines less when I looked in the mirror. Also on the ingredient front, Marine Cream contains no parabens, artificial colors, or mineral oils, and my usually sensitive skin didn't react — a big concern I have when choosing a power anti-aging moisturizer, where I usually worry that heavy-hitter ingredients will give me a reaction.
Last but not least, this moisturizer plays great with or without makeup. After about a week of using Marine Cream, I got a compliment in the office hallway: "Your makeup looks so good today!" Au contraire, I only had skin care on. (And that matches independent trials, where 95% of people who tested Marine Cream for 28 days said they felt more confident going makeup-free*.) On days when I did wear foundation or tinted moisturizer, my makeup never pilled or got patchy. I felt glowy either way, with a smooth-looking complexion that could handle this season's finicky weather (and even stress) in stride. All this to say: this one's my new go-to, and I'd suggest that anyone looking to give their skin some anti-aging TLC should check it out.
Try Elemis Pro-Collagen Marine Cream for yourself, for just $10 (a $45 value). Discount valid for first-time customers in the U.S. only.
*Based on independent user trials in 2017; results based on 120 people who tested Elemis Pro-Collagen Marine Cream for 28 days.
This is paid content produced for an advertiser by New York Stories. The editorial staff of The Cut did not play a role in its creation.