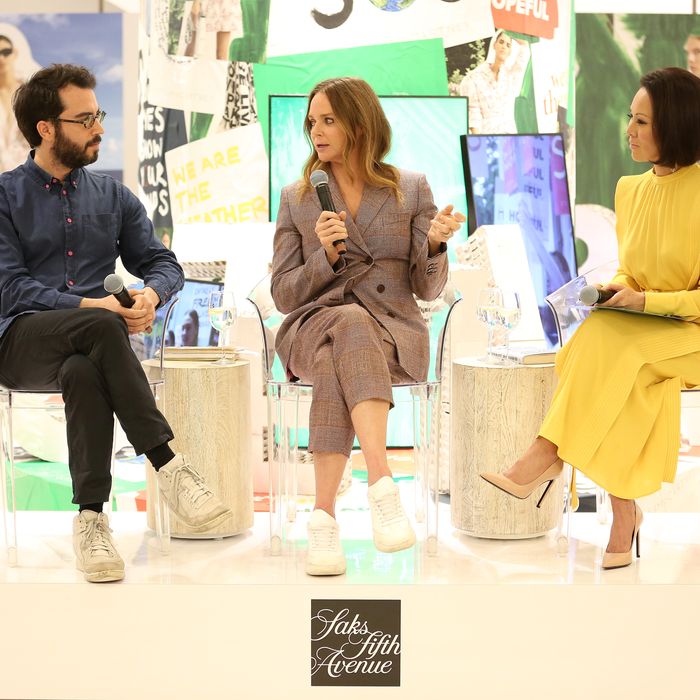 Jonathan Safran Foer, Stella McCartney, and Alina Cho.
Photo: Monica Schipper/Getty Images for Saks Fifth Avenue
Jonathan Safran Foer's new book about climate change, We Are the Weather, comes with its own fashion collection. Well, sort of.
Foer's friend Stella McCartney, herself a longtime environmentalist, made a capsule collection of cotton jeans, shirts, and a jumpsuit inspired by the book. It features a sun motif (the illustrated kind that look like it's blowing wind and currents) and a poem written by Foer (in his own handwriting, no less) printed on the clothes. The pals came together to do a panel at Saks Fifth Avenue about climate change and sustainable fashion.
Both Foer and McCartney are well aware of the challenge of convincing people to change their behavior for the sake of the planet. In one of the essays in We Are the Weather, Foer talks about how climate change isn't a good story — it's not happening to everyone directly (although that's rapidly changing), and unlike, say, the war effort in World War II, you have to convince people of its immediacy. Similarly, talking about sustainable fashion is tricky. It's hard to tell someone who doesn't have much money to spend on clothing that they should buy an organic cotton T-shirt from an ethical factory. I was curious to talk to McCartney and Foer about what can make sustainable fashion a more compelling one.
"I think the way to inform people and try to gently open their eyes to the possibility of change is to do it through fashion, where you can enjoy it and it can be fun and colorful and desirable," McCarntey said of her most recent collection. In other words, if you make it beautiful, the customers will come.
McCartney's brand has been championing cruelty-free clothing longer than any other fashion house of her stature. She's a master of sustainable disguise, making designer goods out of ocean trash (before it was cool), and faux leather so good it feels like she's "fucking with people." But still, she says she's not incentivized at all to do this — she eats a 30 percent tax on importing faux leather goods to the United States rather than real leather goods. To her, the clearer path forward is two-pronged. "The policy has to change, full stop, over every industry," she says. Until it does, though, "People's choices make the change, because you can't rely on politicians to do this. [Businesses] can't ignore a loss in sales."
We know that 100 companies cause 71 percent of the world's emissions. How much does one person giving up plastic straws really make a difference? Foer's book puts forth the optimistic message that "changing the world begins at breakfast." Surely he knows some people would find this overly simple? "It's easy to say this is a structural problem, so why would we put the onus on individuals?" Foer said before the panel. "But [the people who make this argument] don't really have any plan for how to create structural change that doesn't start with individuals. Ninety-one percent of the Amazon deforestation that we're watching right now is because of animal agriculture. What are the odds that we will be able to push Bolsonaro to create like a kind of structural regulation? Zero."
Both Foer and McCartney pointed to the meat alternatives industry as a hopeful example. "Three months ago, if you ate at a fast food restaurant — which a third of Americans do every single day — there wasn't any ecologically decent option," Foer said. "So you can't blame somebody who doesn't have an option to make a good choice. And now everyone in the country has access to an Impossible Burger or Beyond Burgers." If consumer demand is high enough — as it was with meat alternatives — businesses will adopt a viable alternative.
In the panel, the grappling continued. Alina Cho moderated, wearing a Stella McCartney dress made of sustainably sourced viscose. A group of women clad in Stella McCartney's We Are the Weather collection started things off with a mock climate protest. "It's a difficult balance to strike: to say that we are empowered [to make change], but to say it in a way that's rigorous," Foer said. "It's not just about feeling good. It's about doing the right thing."
Say what you want about Foer's and McCartney's approaches, but you can't say they don't care.