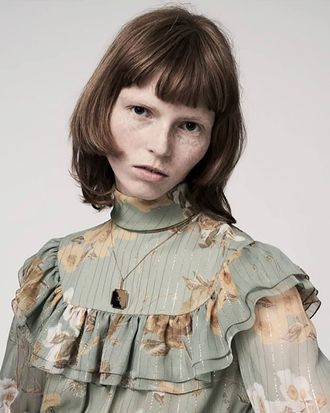 Step bangs wearing Celine Spring 2020.
Photo: Celine
Remember those bangs from a few months ago? The bangs that look like they go too deep, or like they're an extra pair of side bangs behind the regular bangs? These bangs? Well, they're doing great, thanks for asking!
These bangs, Step Bangs, are doing particularly great in the world of capital "F" Fashion, which has been embracing them with open arms. Back in September, they got styled by famed fashion hairstylist Guido Palau before walking at both Givenchy and Prada. It looks like they've also booked a recurring, starring role in back-to-back Celine campaigns for both winter 2019 and spring 2020.
You can see the Celine clothes and Celine accessories in all the shots, but the focus is clearly on our good friend Step Bangs, which you can view from a variety of dynamic, editorial angles that truly show their range.
Like from the front:
Diagonally from this side:
Diagonally from the other side:
Full-on profile:
In motion:
On vacation:
On a windy day:
Hungover on the way to brunch:
Taking a nap:
And taking another nap:
Step Bangs' cousin, the Bowl Cut, has similarly been killing it in the celebrity haircut realm of late. Congrats to both and we can't wait to see what these two promising talents do next.