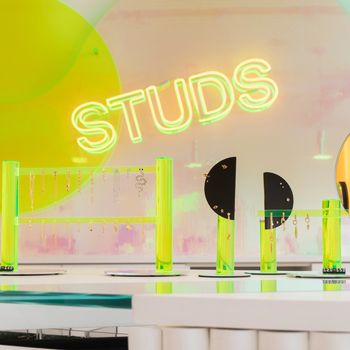 When Anna Harman went to get a second piercing with her longtime friend Lisa Bubbers last year, she left her local tattoo parlor with a new hole in her ear, and an idea of how to fill one in the ear-piercing market.
"We were like, 'Wow, something is broken here,'" Harman told me recently. Sure, the experience she had at the tattoo parlor was clean and safe. But the ambiance was intimidating. The wait was long. And there was no cute, affordable jewelry anywhere in sight.
Harman was standing in her new Nolita-based ear-piercing studio and jewelry store Studs, which she opened with Bubbers last week. A sign reading "HOLE NEW YOU" shimmered behind her. ("We have a lot of puns," she laughed.) She and Bubbers saw room for a piercing experience that sat somewhere in between tattoo parlors and "mall brands" like Claire's, which went bankrupt last year, but was more accessible than high-end shops like New York Adorned. "We realized that no one has updated this model in a long time," Harman concluded.
"No one has updated this model in a long time" are magic words for anyone looking to start a business today, and both Harman and Bubbers happened to be working as hungry executives at different startups at the time — Harman at Jetblack, a personal-shopping service, and Bubbers at Homepolish, an interior-design company. "We know how to operate and build," Bubbers said. "So once we knew what we wanted to do, we did it fast." They've since raised over $3 million in funding.
November 19 marked the official opening of Studs, but hints of the company and its services had already flooded my social-media feed for weeks. Based on the branding alone — a logo in bright "Gen-Z yellow," neon signage, and clean, white walls — I could surmise that Studs existed somewhere in Nolita. In fact, it's conveniently located on Prince Street's "Startup Row," just a few doors down from Everlane, Cuyana, and Milk Bar.
"I was a bit done with the direct-to-consumer millennial startup aesthetic," said Bubbers of the Studs branding. "Like, very much done." Unlike Claire's, a glittery mall destination in the '90s, where teenage girls could buy butterfly clips and get their ears pierced, Studs aims to be gender neutral. "We wanted to create something that was fresh and friendly for everyone," said Bubbers, who got her ears pierced at Claire's in 1994. "No millennial pink here," Harman added. Instead, the cushions are metallic silver and the display stands slime green. A glowing purple light at the entrance to the piercing room is perhaps the only nod to Claire's nostalgia.
"We also wanted to keep it appropriate," Harman added of the space. "You're basically having a small medical procedure done." A bowl of rainbow lollipops, like those you might find at a pediatrician's office, are strategically placed in the waiting room. Clinical-looking piercing booths are located in the back, so you feel just as taken care of, germs-wise, as you would at a tattoo parlor, but less intimidated. You can cry all you want, and no one will notice. Unless, of course, you want to share your tears with your followers.
Even though Claire's is gone, getting your ears pierced is a still coming-of-age ritual, and the Studs target demographic is decidedly ages 14 to 25 — a group they envision replenishing over time. That being said, the shop has enticed those of all ages so far, and if you've ever tried to get your ears pierced in New York City, you'll understand why. Unless you're a tattoo aficionado, it's easy to feel out of place in a tattoo parlor, and it's uncomfortable to undertake a quasi-medical procedure when you feel like you don't belong. Also, Bubbers says, other piercing studios might ask you to sign a waiver and then "never speak to you again," and the lack of aftercare information often gives rise to infections — especially with first-time piercers, like teenagers. Studs, by contrast, makes the experience feel like signing up for an app. You'll get helpful tips sent to your email, plus gentle follow-ups.
Once you drop by for a safe, clean, Instagram-friendly ear-piercing procedure, Studs hopes you come back to buy jewelry, as well. The offering caters to teens both in price and aesthetic, ($14-$175 per single earring), and includes trendy collaborations with names like Susan Alexandra and Man Repeller. Studs also offers consultations on "ear-scapes", a term they're in the process of trademarking which refers to the constellation of multiple piercings on a single ear. "Every ear is a snowflake," Bubbers said. "It's actually hard to put together holes that look good together."
So far, business is booming. Kaia Gerber has a Studs piercing. There was a line outside the door on opening day, and appointments fully booked for the following. When I visited, a woman who was definitely not a teenager sipped a can of Cha Cha Matcha while getting an "ear-scape" consultation. Maybe she would get matching "high" and "bye" earrings, or maybe she would go with something a little classier, like her astrological sign. Meanwhile, a bearded man who was also not a teenager sat atop a piercing table with a needle in his ear. He had his eyes closed in anticipation and looked nervous, but smiled nonetheless.
I decided not to get a second piercing that day, but after I left, I was confronted by a man on Broadway advertising $25 piercings at a tattoo parlor nearby. Studs charges $35 for one hole and $50 for two, but it was no question which experience I would prefer.