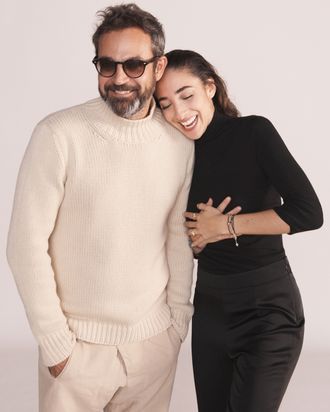 Bessie Afnaim Corral and Oliver Corral.
Photo: Courtesy of Arjé
Bessie Afnaim Corral and Oliver Corral's clothing line, Arjé, is nothing if not cohesive. The couple centers each season around a specific color scheme. Since they color-coordinate all their outfits — down to socks and underwear — it comes naturally. Each season may introduce a brighter color, like lemon or Amalfi Coast blue, but earth-tone separates are the core of the brand, along with their shearling jackets. Of course, this all looks amazing on Instagram, but it feels genuine, like all the slightly bohemian things they love just happen to look great together. We spoke with Bessie and Oliver about throwing a good party, where to find socks in every Pantone color, and Slim Aarons.
How do you thank someone for a gift?
Bessie Afnaim Corral: If we aren't with them, we would call them on FaceTime, express our thanks, and send a special note along with a special crystal to thank them for their own beautiful gift.
What would you never wear?
B.A.C.: I would never wear leopard print.
Oliver Corral: I would never wear Speedos.
What's a good book on your coffee table right now?
O.C.: We just purchased the Slim Aarons French Riviera book and we adore it. The colors, the mood, the whole vibe takes us away and is one of our inspirations for our next spring/summer collection.
Last show you binge-watched?
B.A.C.: We just recently got into Big Little Lies, but in all truth, we aren't huge binge-watchers. It takes us ages to finish a series.
Secret to hosting a good party?
B.A.C.: The atmosphere and to make everyone feel like the most special person in the room. Fill a space with candles, dim the lights, and create a real vibe.
O.C.: Always have more alcohol than you need and always make sure the bar and the DJ and dancing are all next to each other. Our whole thing is about keeping the energy in the room up. Don't separate the energy; it keeps people together all night long.
What is a trend that you like right now?
B.A.C.: Beige, beige, beige, and anything in shades of earth color tones. We've always loved and lived in a head-to-toe light-color monochrome look, but only this year has it really become a trend and we love it.
One you don't understand?
O.C.: Neon clothes and streetwear that makes women and men look like 15-year-old boys.
Favorite museum/gallery?
O.C.: Noguchi Museum in Queens and Musée d'Orsay in Paris.
B.A.C.: The Noguchi Museum is one of the most special places in NYC and somewhere we go to really let our minds wander. The artwork and the atmosphere are all one. And we love getting lost and inspired with the most amazing
Impressionist and Post-Impressionist pieces on the d'Orsay.
Shoes you wear most often?
B.A.C.: Mansur Gavriel open-toed sandals. They work with everything in our collection, they make me feel barefoot, and have a slight heel to give me a little extra height.
O.C.: Common Projects sneakers. I must have sold so many pairs as I wear them with everything in our collection and so many clients want the same look.
What's your favorite …
Pajamas?
Both: We don't wear pajamas.
Candle?
Both: 69 from L'Objet.
Scent? 
B.A.C.: Eucalyptus & Lavender Essential Oils.
O.C.: Tobacco Vanille from Tom Ford.
Socks?
Both: We both love Pedemeia. We found this sock brand on one work trip to Portugal this spring. We became completely obsessed — they have every single color of socks from the Pantone book. And we literally found every single tone to go with our outfits. Our wardrobe is seriously color-coordinated down to our socks and underwear.
T-shirt?
O.C.: Hanes classic white tee.
B.A.C.: I never wear T-shirts.
Can you share three Instagram photos of yourself that define your style? 
B.A.C.: These photos show that we always dress in harmony; we have a really specific color-coordinated look — that's really our thing. We wear elevated daywear, but always look relaxed for evenings. Our pieces layer endlessly and work together season after season.
What is your favorite place in your studio/office/home? 
O.C.: Our showroom and our kitchen. The light in our showroom, the energy, and the feeling in here are beautiful. We constantly change it every season. We use it as an incubator to experiment with our ideas and the overall visuals of the collection. We always need sunlight and big windows, and the reflection of the huge windows and the way the sun lights up the space are honestly incredible.
Shop the Story
If you buy something through our links, New York may earn an affiliate commission.