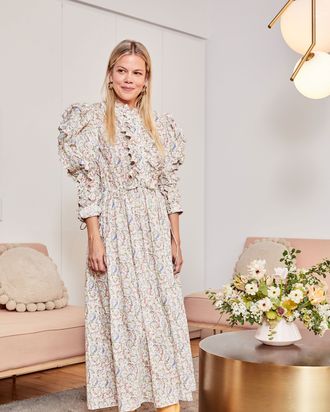 Jessie Randall
Photo: Cody Guilfoyle/Courtesy of Loeffler Randall
You know when you see someone on the subway and think "I want her shoes"? Jessie Randall is the patron saint of that feeling. Her brand, Loeffler Randall, makes shoes that are always on trend and feminine but stop shy of being prissy or fussy. It's best known for making party shoes with a knotted bow on top, although it also makes a killer pair of combat boots. Kate Middleton and Margot Robbie have worn the brand. Sophie Turner wore a gold pair of Loeffler heels at her Vegas wedding ceremony. We spoke with the designer about gallery tours, barrettes, and kids' parties.
How do you thank someone for a gift?
I'm a big fan of the thank-you note and hope to instill the importance of it in my children too. When I send a thank-you I like to use a beautiful card like one from Hartland. I also love to get gifts for my friends to say thank you. It's fun to pick up something from my travels that I know they will like.
What would you never wear?
I try not to wear things that don't feel like a reflection of me and my style or are uncomfortable. I try to never say never, but I am not a big fan of a super-high heel "sexy" stiletto.
What's your dream vacation?
I just got back from Marrakech and that was pretty much a total dream. I'd love to go back to Beldi Country Club with my husband one day. Even though I work with my husband and see him all the time (24 hours a day, basically), I do love spending time with him.
What's a good book on your coffee table right now?
My living room is in a state of flux at the moment. I'm trying to redecorate. So there's nothing on my coffee table. But I want to get the cookbook from La Famille restaurant in Marrakech.
Last show you binge-watched?
Do I have to tell the truth? The Hills: New Beginnings.
Secret to hosting a good party?
In my case that would be getting it catered. Honestly, hosting parties for adults makes me nervous, but I love to host parties for kids. My 9-year-old son Harry is hosting a fundraiser for endangered birds in a few weeks. We are going to play bingo and give out prizes that we and some friends made. So I would say swag. Swag is the secret to hosting a good party.
What is a trend that you like right now?
Loving wearing tall shaft boots right now.
Favorite museum/gallery?
My Brazilian friend Gisela Gueiros gives tours of galleries called "Artsy Tours." Once a year I try to get the chance to go on one. She's incredible. She shows such beautiful things, and brings along her iPad to show other photos and info about the artists, and it helps me understand so much better.
Shoes you wear most often?
Well, I own a shoe company so I have so many different pairs in rotation. But lately the pair I wear most often is my cognac vachetta Gia boots. I just got a pair of our Brady tiger combat boots yesterday and I can tell I'll be wearing those a lot once it gets colder out.
What's your favorite…
Pajamas? Uniqlo heat tech leggings. They are so soft! I live in them.
Candle? The beautiful flower candles we bought in Oaxaca.
Scent? My son Harry snuggling me in bed each morning.
T-shirt? Jungmaven.
What are three photos that define your style? 
I recently discovered this old photo of myself and I love it. It seems to capture who I am and I think I'm pretty much the same person now. I love my style in it too: I'm wearing my brother's hand-me-down sweatshirt with a turtleneck underneath and I have a flower barrette in my hair. The style is simple, understated, and feminine, with some vintage thrown in.
What is your favorite place in your office/studio/home? 
I love my desk in my office. My friend Poonam, who helps me with the interiors of my office, and I had the idea to cover my desk with the beautiful Italian leather we use in our collection. My husband thought we were crazy but we made it work. Over time it's gotten a lovely patina. I love my collection of Makoto Kagoshima ceramics I keep on my desk. (I collect them).
Shop the Story
Available in sizes XS-XXL.
Available in sizes XS-XXL.
If you buy something through our links, New York may earn an affiliate commission.