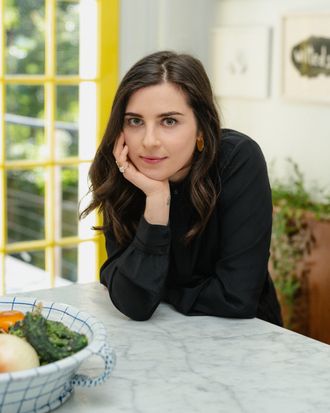 Julia Sherman.
Photo: Ryan Lowry
Julia Sherman is a tastemaker in the literal sense of the word taste. Her blog, Salad for President, raised salad to an art form and then became a cookbook by the same name. And just yesterday she launched her first wine, a verjus with just 3.4 percent ABV, called Jus Jus (pronounced with a soft J). Sherman collaborated with natural winemaker Martha Stoumen. The bottle is so cute, it's the kind of packaging you'll save just to keep around your apartment and serve water out of when the wine is all gone. We spoke with Sherman about making her own stationery, tips for a good party, and monogrammed socks.
How do you thank someone for a gift? I am a big proponent of the old-fashioned thank-you note. I made my own letter-pressed stationery with Emily Post nuggets of wisdom printed on the front. Handwriting still goes a long way, in my experience.
What's your dream vacation? At the end of my dream vacation, I am more exhausted than when it began. The days include four meals, encounters with strangers, open-air markets, food shopping, museums renowned and obscure, and miles of walking. Since having a child, I am learning to appreciate the value of the "lie on the beach" vacation, but in my dreams, I never sleep.
What's a good book on your coffee table right now? Dorothy Iannone: A Cookbook, published in 1969. It's a dense, personal journal, an illustrated artists' book, and a cookbook all in one. Her character shines through every recipe.
Last show you binge-watched? Succession.
Secret to hosting a good party? Make a mess and get your guests involved! Even the food can be a hands-on project. I recently had a tinned fish dinner, where everyone brought a fancy can of sardines or marinated seafood, and I provided bread, cheese, and a big salad; when you give your friends a chance to contribute, the food becomes a talking point, a source of entertainment. If the kitchen isn't your domain, don't let that stop you. Order pizza and some special wine, and introduce a craft project as social lubricant — tie-dye your summer whites, or get stoned and do group collage. The important part is that you let go and have fun. Perfection is boring.
What is a trend that you like right now? Oversized sweaters and vegan ice cream.
One you don't understand? Those Stay Puft marshmallow sneakers worn with skirts — it makes everyone look like an '80s secretary power-walking to work.
Favorite restaurant in New York? Cervo's. The food is thoughtful but simple, the interior is intimate, and I always run into friends.
Shoes you wear most often? Camper Lab electric-blue neoprene booties (never have I ever had more comfortable shoes), or my Eckhaus Latta suede ankle boots (it's a tie).
What's your favorite …
Pajamas? Muji.
Garnish? Cilantro flowers.
Candle? I don't do scented candles, just palo santo. For decorative candles, I buy the molded beeswax candles from the honey stall at the farmer's market. They come in the shape of fertility goddesses, corn cobs, and carved eggs.
Scent? Orange blossom and kefir lime.
Socks? Henrik Vibskov or Tabio (they monogram them for you in their store in Paris).
T-shirt? A boxy Apiece Apart short-sleeved cropped T-shirt.
What are three photos that define your style, and why?
You will rarely find me anywhere with UV rays without a wide-brimmed hat (this Étude hat is my every day).
I am passionate about comfortable shoes, high-waisted pants, and tailored white shirts (and salad).
My late grandmother was my inspiration for so many things, style among them. Her accessories always matched, she wasn't afraid to wear aubergine from head to toe or a floppy velvet beret, and she knew how to rock a set of pearls (I am still working on the last one, but it's healthy to have goals).
If you buy something through our links, New York may earn an affiliate commission.