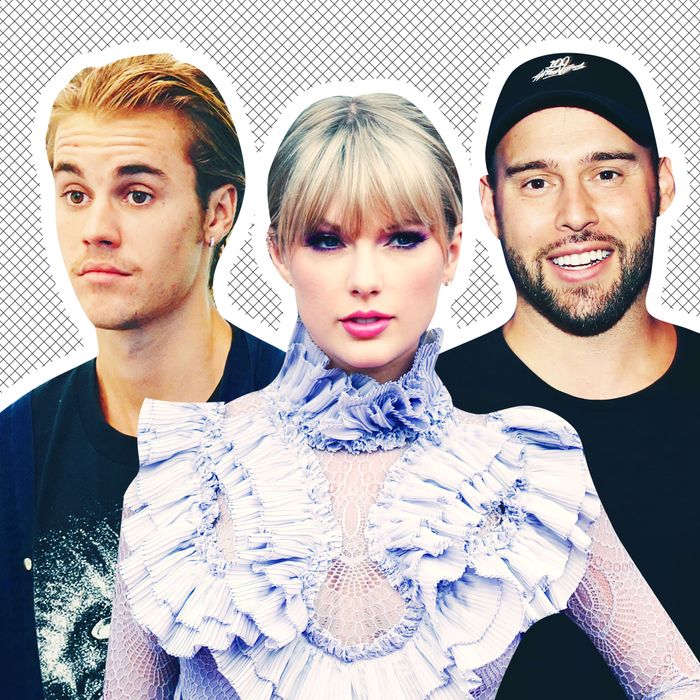 For months, Taylor Swift has been at the center of a convoluted feud over the issue of artists' rights — something Swift has been vocal about in the past. And it has only gotten messier over time.
In late June, label owner Scooter Braun shelled out $300 million for Swift's former label, Big Machine, giving him ownership over Swift's first six studio albums. Swift, who claims she found out about the sale at the same time as the public, was rattled. For a while, it appeared that things had settled — and then came Swift's open letter. On November 14, Swift accused Braun and her former label's chief executive, Scott Borchetta, of barring her from performing her old hits. "This is WRONG," she wrote on her social media pages. "Neither of these men had a hand in the writing of those songs. They did nothing to create the relationship I have with my fans." Swifties, as well as other celebs like Gigi Hadid and Selena Gomez, were furious on Swift's behalf, and stood in solidarity with her. But most recently, Braun has claimed that he is also victim: On November 22, he posted a statement to Instagram claiming that he has received "numerous death threats" as a result of their feud.
Is a resolution on the horizon? Let's go back to the beginning.
Taylor Swift called out Scooter Braun after he acquired her music catalogue.
In June, Taylor took to Tumblr to express her dismay that Scooter Braun, best known for being Justin Bieber's manager and the owner-founder of School Boy Records, had acquired Big Machine Label Group. This gave him ownership of her music catalogue, including all her albums and masters.
Swift called out Scott Borchetta, Big Machine's CEO and founder, accusing him of taking advantage of her toward the end of their working relationship: "When I left my masters in Scott's hands, I made peace with the fact that eventually he would sell them. Never in my worst nightmares did I imagine the buyer would be Scooter," she wrote. "He knew what he was doing; they both did. Controlling a woman who didn't want to be associated with them." Swift also claimed that she learned of Braun's purchase as it was announced to the world, and that she was not given the opportunity to own her work in the first place.
And Swift has long had beef with Braun. "All I could think about was the incessant, manipulative bullying I've received at his hands for years. Like when Kim Kardashian orchestrated an illegally recorded snippet of a phone call to be leaked and then Scooter got his two clients together to bully me online about it … Or when his client, Kanye West, organized a revenge porn music video which strips my body naked …"
So this beef goes back to ancient times: 2016.
Celebrities took sides.
Unsurprisingly, Bieber posted in support of Braun soon after Swift's post (Braun has been Bieber's manager since the beginning of his career). On Instagram, he paired an old photo of himself and Swift with a long caption. It began as an apology for the alleged "bullying," but Bieber emphasized that Braun was uninvolved and actually discouraged it.
Here's who else sided with Braun: Demi Lovato, American Idol runner-up Katharine McPhee, (seemingly) Kendall Jenner, and Sia.
And here's who went Team Taylor: Cara Delevingne, Selena Gomez, Halsey, YouTuber and singer Todrick Hall, Ed Sheeran, Speidi, model Martha Hunt, Iggy Azalea, and Brendon Urie.
Scott Borchetta accused Swift of distorting the facts of the situation.
Borchetta responded to Swift within a few hours via a blog post on the label's website. The post, titled "So, It's Time for Some
Truth …", was defensive.
Borchetta began his post by revealing something that many people might not have known otherwise: that Swift's father, Scott Swift, is a shareholder in Big Machine. All shareholders were alerted of the sale on Tuesday, June 25, Borchetta claimed, and the details were finalized in a shareholder's vote on Friday, June 28. Borchetta also said that he contacted Swift via text message on the following Saturday to personally let her know of the situation.
Borchetta also claimed that Swift was offered a deal in which she could possibly own her music: "100% of all Taylor Swift assets were to be transferred to her immediately upon signing the new agreement. We were working together on a new type of deal for our new streaming world that was not necessarily tied to 'albums' but more of a length of time … Taylor had every chance in the world to own not just her master recordings, but every video, photograph, everything associated to her career. She chose to leave."
Throughout all of this, Braun stayed remarkably silent, except for retweeting this suggestive tweet:
Swift is now claiming that Braun and Borchetta won't let her play her old hits.
On November 14, Swift took to social media to air her mounting grievances with Braun and Borchetta, who she claims will not let her perform her old songs that they own on television. This restriction, she claims, has messed up her plans for a retrospective performance at the American Music Awards; she also says this has affected a forthcoming Netflix documentary about her.
"I feel very strongly that sharing what is happening to me could change the awareness level for other artists and potentially help them avoid a similar fate," she wrote in the post. "The message being sent to me is very clear. Basically, be a good little girl and shut up. Or you'll be punished. This is WRONG. Neither of these men had a hand in the writing of those songs. They did nothing to create the relationship I have with my fans."
She then called on her followers to "please let Scott Borchetta and Scooter Braun know how you feel about this."
And they listened.
Swift's fan base was quick to defend her on social media (a lot of posts were good-natured, others more menacing.) On Friday morning, the hashtag #IStandWithTaylor was trending. (As was the unfortunately misspelled #IStandWithTayor.)
Fellow artists and Swift's personal friends, including Selena Gomez and Gigi Hadid, were also quick to jump to her defense.
Back-and-forth statements have ensued.
On November 15, Big Machine issued a lengthy statement denying Swift's accusations. The statement insisted that Big Machines "[does] not have the right to keep her from performing live anywhere," and in turn accused her of owing the company "millions of dollars and multiple assets." Big Machine also claimed that the label and Swift were starting to get close to finding a "private and mutually satisfactory solution," but that Taylor negated their progress by making the "unilateral decision last night to enlist her fanbase in a calculated manner that greatly affects the safety of our employees and their families."
"Taylor, the narrative you have created does not exist," reads the statement. "To date, not one of the invitations to speak with us and work through this has been accepted. Rumors fester in the absence of communication … We share the collective goal of giving your fans the entertainment they both want and deserve."
Not long after Big Machine put out its statement, Swift's longtime publicist Tree Paine put out one of her own, in which she accused Big Machine of "trying to deflect and make this about money."
And then, Dick Clark Productions — producer of the American Music Awards — got pulled into the feud. On November 18, Big Machine released a statement claiming the label and the TV production company had come to an agreement that would allow Swift to perform her old songs during the awards show, and that her performance could be rebroadcast on approved platforms. Dick Clark Productions, however, contests that they ever agreed to issue any sort of statement with Big Machine regarding Swift's AMA performance. Hmm!
Braun is now begging Swift for an "open discussion" to end this months-long feud.
In the two weeks following Swift's long social-media statement, Braun didn't publicly comment on the feud — explicitly, that is. On November 19, Braun tweeted a photo of the phrase, "Kindness is the only response," with the message, "Words to live by."
Then, on November 22, in an impassioned statement posted to Instagram, Braun begged Swift to have an "open discussion" with him about how to resolve this feud, as he has been receiving "numerous death threats."
"This morning I spoke out publicly for the first time saying I wouldn't participate in a social media war," reads the statement. "However I came home tonight to find my wife had received a phone call threatening the safety of our children as well as other threats seen above … I have been at a loss."
He also said that Swift can perform whatever song she wants at the AMAs, and claimed that he has "never and would never say otherwise."
"I'm right here, ready to speak directly and respectfully," the statement continues. "But if you would prefer to make large public statements while refusing to work towards resolving things amicably then I just pray that nobody gets seriously hurt in the process. I continue to wish you the best and hope we can resolve this."
I'm exhausted.
This post has been updated.