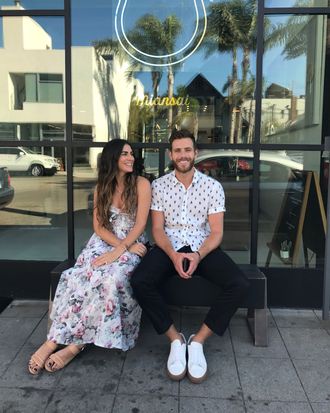 These days everyone claims to have a work spouse, but for Michael and Rachael Saiger, that phrase is actually quite literal. The two are the husband-and-wife duo behind Miansai, a Miami-based accessories brand known for screw-cuff bracelets and vintage-inspired necklaces that men buy in bulk. The pair met in a way that feels ripped from a Lifetime movie pitch: Michael, Miansai's founder, hired Rachael, then a freelance stylist, to consult on the brand's first women's collection.
These days, the couple get a lot of face time working together in their downtown Miami studio, where Rachael oversees Miansai's fashion direction. It's not all bracelets, rings, and leather goods between them: They also regularly collaborate on Rachael's nonprofit organization, Style Saves, a charity that donates clothes and supplies to Miami's youth for special events like prom and back to school. Below, we spoke with Michael and Rachael about their travel bucket list, becoming new parents, and their new collaboration with Fila.
How do you thank someone for a gift?
Rachael: We like to thank people by gifting them from our latest collection
What would you never wear? 
R: Neon. I like it for other people but it's just not for me.
Michael: You'll never catch me wearing a V-neck.
What's your dream vacation?
M: We go on a sailing trip every summer with our friends. The next destinations on our hit list are Vietnam and the east coast of Italy. It's truly the best way to travel. We can't get enough of being able to see a country by boat while also enjoying fresh local dishes along the way.
What's a good book on your coffee table right now? 
R: The Pleasures of Eating Well by Christina Ong of Como Shambhala. We stayed at her estate in Ubud, Bali just before we had our baby Sunny and fell in love with the place. It's in the middle of the jungle with waterfalls, monkeys, and the most delicious yet simple food.
M: The New York City Transit Authority Graphics Standard Manual and NASA's Graphics Standard Manual.
Last show you binge-watched? 
R: Does the baby monitor count?
M: My current binge series is The Godfather of Harlem.
Secret to hosting a good party?
R: It's all about having the best food, flowers, music, and, most important, company.
What is a trend that you like right now?
R: We recently started adding more fine dainty diamond and sapphire pieces to our women's collection. Who doesn't love a little sparkle?
M: We've been seeing a huge spike in popularity from our vintage-inspired pendants for men and women. People are really loving all of our different designs, which are all newly made but have a really nostalgic feel.
One you don't understand?
R: Fast-fashion accessories. We can't get our head around people investing in pieces that won't make it through the night. In our opinion, it's all about quality over quantity while keeping things timeless.
Favorite restaurant in New York?
R: Bar Pitti, I love a good classic.
M: There's this ramen restaurant called Zest near our Crosby Street flagship store. I always make a point to stop there once a trip.
Shoes you wear most often?
M: We have a collaboration with Fila that's launching in early December, and the men's style was inspired by a vintage Italian leather tennis sneaker. It has maritime-grade rope in the laces and other hardware elements: I see these being my go-to pair for a long time because they are perfect for every day.
What's your favorite…
Pajamas?
M: I usually sleep in my Style Saves volunteer T-shirts and my New York Jets shorts from college.
Candle?
R: Aerin Rose de Grasse.
M: Diptyque Black Baies.
Scent? 
R: Cornelia's Signature Room Spray. There was a spa in the Upper East Side that I used to go to a lot during my teenage years before it closed. While the original is no longer there, I still enjoy the scent at home and spray it frequently in my closet while I'm getting dressed.
M: Fueguia Ett Hem.
T-shirt?
M: Industry of All Nations.
Can you share three Instagram photos of yourself that define your style? 
R: We're both all about comfort and functionality. We like investing in pieces that will carry throughout each season, with a casual yet chic aesthetic that lends itself from day to night.
What is your favorite place in your studio/office/home? 
M: Our backyard. It's where we got married and front row to the best sunset over our bay front view. Plus, we have our own private entrance to the Standard Hotel & Spa's property.
Shop the Story
If you buy something through our links, New York may earn an affiliate commission.