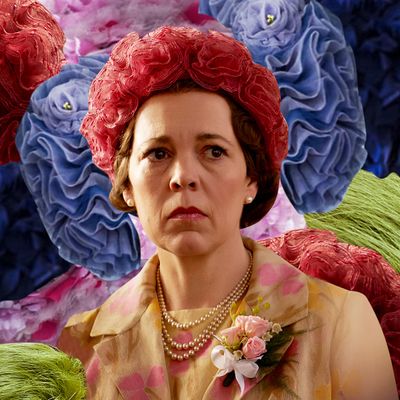 One of my favorite characters on this season of The Crown was a very silly hat. It sort of looked like a fuzzy helmet, or those Barbie birthday cakes covered in scalloped icing — large and ridiculous and extremely distracting.
Distracting because The Crown is a serious show; its latest season was a somber march through the life of the British royal family from the mid-1960s through the late '70s. Like other seasons, it involved deaths, betrayals, divorces, and too much drinking. These hats, meanwhile, are completely at odds with the dour anxiety that distinguishes the show. Fashion colleagues at the Cut thought they might be cloche hats, a bell-shaped felt thing popular in the '30s, but that wouldn't work with our timeline.
"These are what were called 'petal hats,' which were essentially turbans," says Stephen Jones, a prestigious British milliner whose designs have been worn by everyone from Princess Diana to Rihanna, and more recently Meghan Markle. "First introduced by Yves Saint Laurent when he was the young designer at Christian Dior at the end of the 1950s. These Dior hats also were extremely popular in America where they were considered feminine and optimistic."
That petal hats were big in America makes sense. Elizabeth Taylor sported them and we see Helena Bonham Carter don several on her trip abroad in the season's second episode. My favorite, though, is this bright pink Midsommar number worn by Olivia Colman as Queen Elizabeth:
I found this hat a little bit shocking. Previous seasons have seen the Queen in a subdued palette (very different from the Skittle-colored looks she favors today). But Amy Roberts, costume designer for The Crown, explained that color was all the rage during this period: "Coming out of the subdued, post-Second World War era was a big thing. The '60s weren't just about mini-skirts and free love, it was the introduction of color."
Roberts didn't say how historically accurate the petal hats were, but for the most part, The Crown is meticulous when it comes to costuming. The bubblegum-pink crown, for instance, is something Queen Elizabeth actually wore to the Epsom Derby in 1962. Unfortunately for lovers of candy-colored headgear, though, it turns out it was actually white.