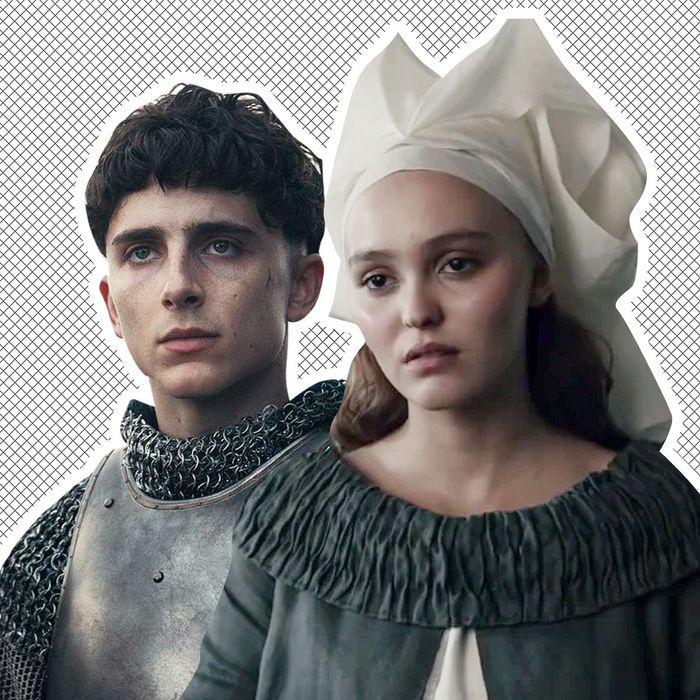 Remember that kissing photo? The one where Lily-Rose Depp and Timmy Chalamet are making out on a yacht? It's an awkward picture that inevitably hit the meme cycle, like the weird PDA photos of Shawn Mendes and Camila Cabello from last month, and Lil Xan and Noah Cyrus many months prior. Oh, the follies of youthful intimacy.
Since then, Depp and Chalamet have been spotted making out pretty much everywhere in the world. They're co-stars in The King. Chalamet plays the titular role, Henry V, the teenage king who took up the English crown following the death of his father due to the absence of germ theory, while Depp plays Henry V's French wife, Catherine of Valois.
It was because of these terrible kissing photos that my expectations were tempered when it came to their onscreen chemistry. I wondered, Would the same overeager clumsiness of the yacht photo permeate 15th-century Europe?
Luckily, Chalamet and Depp do have chemistry, enough to redeem any discomfort over the yacht photo. Because it's medieval Europe, and Catherine is only sworn to Henry as a geopolitical pawn, intimacy between the characters is relegated to two brief but poignant conversations. This was a shame — this is Depp's mainstream acting debut and I was hoping to see more of her.
But as the young princess, Depp is clever and measured and extremely French, and thanks to her genetics still looks beautiful in horned headdress. In their only solo scene together, the camera toggles between excellent bone structure and excellent bone structure, with Catherine calling Henry on his asinine warmongering against France. Likewise, Chalamet, whose gangly, puppy-dog demeanor was squeezed into chain mail for the entire film, is finally given a chance to flirt, which he excels at.
Unfortunately, their interactions take place in the last quarter of the film, and are preceded by a lot of battle strategy, mead drinking, and moaning and groaning about betrayal and insult (so, it's a standard period drama). As a whole, The King plods, and is just slightly more interesting than its Shakespearean source material. But if you're a die-hard Timmy fan, it's fun to see the actor in this new modality, terf bangs and all.