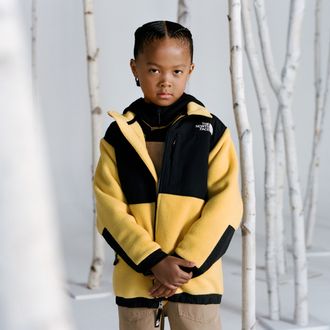 The North Face just relaunched the 1995 Denali fleece jacket. It's a '90s staple, fuzzy and bright, and we are totally here for it. In a recent campaign shot and directed by photographer Shaniqwa Jarvis, the revived '95 Retro Denali goes on a journey with the kids of New York, capturing imagery that's meant to inspire a sense of exploration.
Jarvis, a Lens artist who has previously shot campaigns for Supreme, Nike, and adidas, bought her own Denali jacket at 16 years old. In the short film accompanying the campaign, which is called Shaniqwa Jarvis – Explore More, she takes viewers on a journey through her New York City upbringing. The film, which features voiceovers by Shaniqwa and her own mother, pays tribute to people and places that have helped shape who she is today.
"Not enough black women are celebrated or highlighted enough for the work that they do within the art world and creative spaces. So it made sense for me to tell the story from a real place, and to have people go with me on a journey," Jarvis told the Cut.
Today, Jarvis will be holding a screening of Shaniqwa Jarvis - Explore More in Harlem at Avenues for Justice, a program to keep kids out of prison by providing them with mentorship, legal help, and other forms of support. 25 kids will attend, and they'll all receive free jackets.