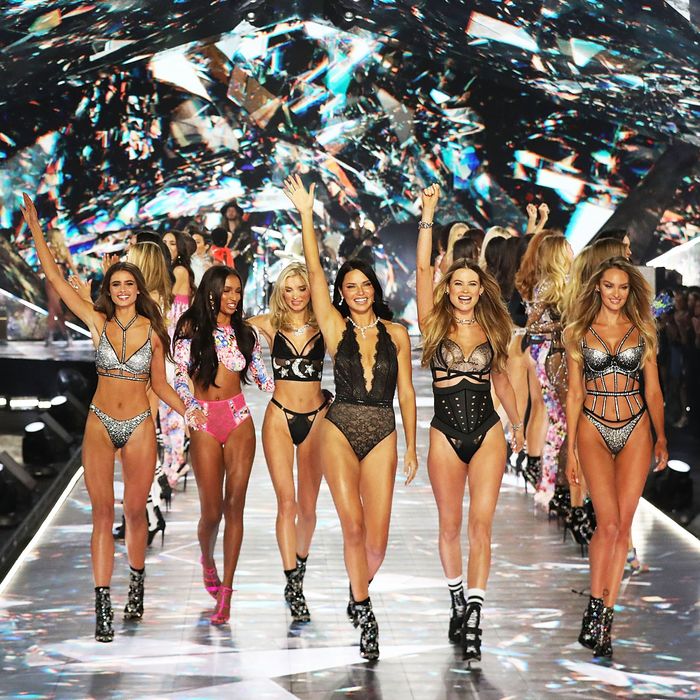 Models at the Victoria's Secret Fashion Show
Photo: Taylor Hill/FilmMagic/Getty Images
It's official: the Victoria's Secret Fashion Show is canceled. Not canceled as in persona non grata on Twitter, canceled as in not happening. L Brands, Victoria's Secret's parent company, confirmed on Thursday that the show wouldn't happen this year, after months of speculation.
"We think it's important to evolve the messaging of Victoria's Secret," L Brands CFO Stuart Burgdoerfer said today. "We will be communicating to customers but nothing similar in magnitude to the fashion show. We will communicate to customers through lots of vehicles including social media and other channels."
The last Victoria's Secret Fashion Show aired in 2018, and had its lowest ratings ever, with only 3.3 million viewers. That's half of the audience the 2016 show had. The low ratings may partly have been because of a controversial interview Victoria's Secret's CMO Ed Razek and EVP of Public Relations Monica Mitro gave to Vogue a few days before. Among other things, Razek said the show shouldn't have transgender models because it was a "fantasy." Razek has since quit.
And then there's the Rihanna factor. Rihanna hosted her first Savage x Fenty show in September 2018 (three months before VS's final show). It was, and continues to be, everything the Victoria's Secret Show wasn't. It's still star-studded and a spectacle, but is inclusive of various races, body sizes, and abilities without feeling like pandering. And while the models certainly are sexy, the show feels like a celebration of sexuality on the models' own terms, rather than a spectacle tailored for (straight male) viewers. Victoria's Secret has become emblematic of an outdated kind of sex appeal, one that was sold to women but catered to men. It also probably doesn't help that Les Wexner, the former CEO of L Brands, was a well-known client of Jeffrey Epstein.
So Victoria's Secret has hit some setbacks, to say the least, and they're translating into the brand's business. Shares are down, and sales have been declining for months. The brand has had some attempts to change. A September ad campaign was inspired by Me Too and photos of a plus-size model and a transgender model were shown in stores (the plus-size model in question, people were quick to point out, has made fatphobic comments in the past). Still, the general response was, "Too little too late." Resistance to change, ties to Jeffrey Epstien, and increasing competition from start-ups, Rihanna, and other legacy intimate apparel brands have hurt a once-ubiquitous brand.