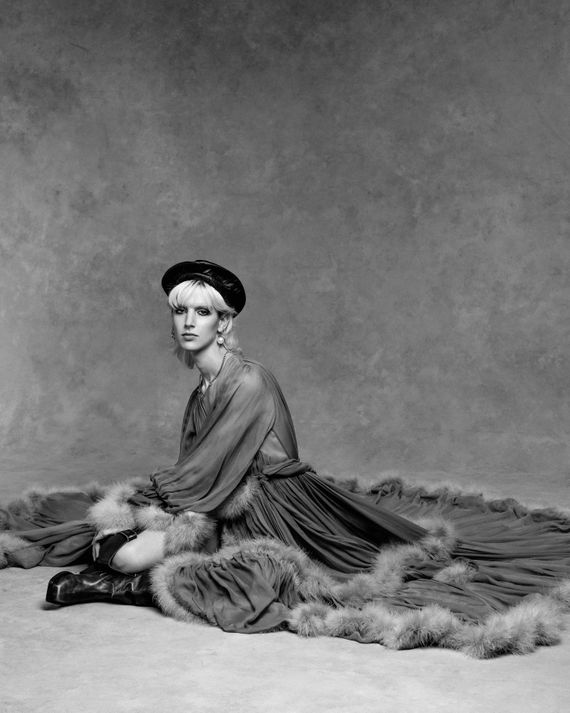 Miss Dylan says she "fell into" modeling by accident, "but getting to wear expensive clothes and having my hair and makeup done is definitely my dream job." And she looks good doing it. She's modeled for Milk Makeup, Vogue Czechoslovakia, and Vivienne Westwood. With platinum hair and generous wit, she's fun to watch and follow on social media. One minute she's in full glam in a magazine's editorial, the next she's still in full glam, but folding a pizza box in under ten seconds (a tip she picked up while working in food service). She's also mastered the fine art of balancing high-fashion photos and PSAs to carry Narcan. Perhaps unsurprisingly, given her sense of humor, her all-time favorite artist is "the king of camp" John Waters. We spoke with her about Britney Spears's "anti-capitalist anthem," hummingbirds, and Squidward.
What was the last thing that you saw that inspired you?
I loved the Mika Rottenberg exhibit at the New Museum.
What would your Real Housewives tagline be?
Whoever said blondes have more fun was absolutely correct.
If you were running for office, what would your campaign song be?
"Work Bitch" by Britney Spears because it's a satirical anti-capitalist anthem.
If you were an animal, what kind of animal would you be?
A hummingbird because I'm so jittery and over-caffeinated all the time.
What are the last three songs you've listened to?
FKA Twigs "Thousand Eyes," Aphex Twin "Aisatsana [102]," and Quay Dash "Queen of this Shit."
What superpower would you like to have and why?
Telepathy seems like it would be really useful in a lot of situations.
What's your idea of a perfect day?
Any day spent at the ocean or by a pool.
If you could master any skill (that isn't related to your current job), what would it be?
In another life I'd love to be an expert musician, because I think there's something beautiful about being able to communicate feelings without words.
What goal are you working toward at the moment?
Getting my own studio/workplace.
What three fictional characters do you relate to most?
Elle Woods, Leslie Knope, and Squidward.
Dylan wears a Dolce & Gabbana silk robe, Clyde leather beret, Ganni boots.