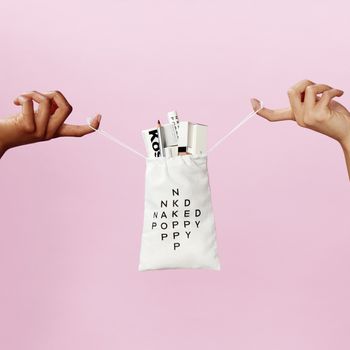 Photo: Courtesy of Naked Poppy
When people find out I'm a beauty editor, they almost immediately ask what my favorite products are. For ages, the question I got most frequently was "What's the best eye cream?" until about two or three years ago, when that finally got usurped by the clean movement. Since then, everyone wants to know which clean beauty products really work and are truly clean.
As the clean wave morphs into a full-on tsunami, it can be hard to stay on top of which products are the best, and that's where new beauty site NakedPoppy comes in. Tech vets Jaleh Bisharat and Kimberly Shenk (Amazon, Open Table, Eventbrite) were overwhelmed and confused by the offerings out there, so they curated their favorites, then wisely hired a green chemist to dissect every chemical in each product before giving it approval. Among the picks are items from Vapour, rms beauty, Kosas, and Ere Perez, as well as NakedPoppy's own first entry, a liquid eyeliner.
Getting a list of curated products is one thing; finding what works best for you and your personal style is another. That's where the questionnaire comes in. You answer about a dozen questions (about skin tone and eye color, but also things like preferred appearance — Do you usually go bold? Dewy skin or matte skin?), then ten or eleven products pop up on the screen, divided into two categories: Natural and Glamorous. Also, once you're in the system, every product going forward comes with a percentage of how well-matched it is for your coloring and preferred look.
I thought I was well-versed in clean beauty, but I found brands on the site I'd never even heard of, like Lily Lola, whose mascara is currently doing some impressive lengthening to my lashes. The site currently only offers makeup (with a smattering of skin care extensions from Ere Perez), but skin care arrives in December. Until then, anyone got a favorite clean eye cream they can recommend?