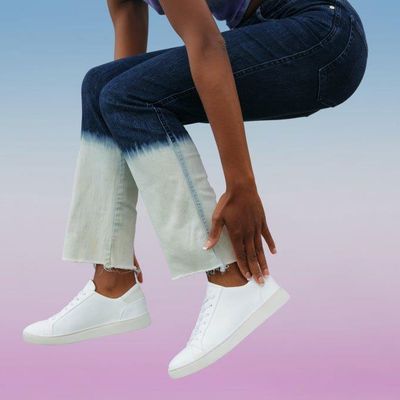 Few shoes are workhorses quite like plain white sneakers are: The kind you can throw on while you're walking to the bodega, or wear to work, or walk five miles across the park in. There's no shortage of plain white sneakers out there, but there is definitely a need for more sustainably made ones. Enter Thousand Fell, a new, recyclable brand of sneakers.
Co-founders Stuart Ahlum and Chloe Songer decided from the beginning that they didn't want their shoes to be sent to a landfill. "If we were going to launch a new brand then we needed to focus on rethinking the complete method of consumption," Chloe said. "For us this means not only sustainable sourcing at the beginning of the supply chain and material innovation, but also accounting for the waste generated by a product when its lifetime is up."
The first recyclable sneaker I heard of was Adidas's Futurecraft.Loop, which is a running shoe made of one single type of plastic (Adidas just recycled it's first batch this month). Thousand Fells' shoes, in contrast, are made of a leatherlike material made from post-consumer plastic and coated with bio-resin made from corn waste, with a rubber sole. When I first saw the shoes, I could hardly believe they weren't real leather. They're smooth, and look good after several months of wear.
When your pair is worn out, you can send them back to the brand, and get $20 off of your next pair of shoes. The shoes are "ready for disassembly," according to co-founder Stuart Ahlum. Every part of the shoe can be recycled, upcycled, or biodegraded (the biodegradable parts disintegrate in less than a year). It isn't an exact 1:1 ratio – one old shoe won't be turned into one other new shoe. It's more like several old shoes can be recycled into a new shoe. But the idea is that you'll love your white sneakers so much, wear them for 10,000 steps every day, return them to the brand to be recycled, get a new pair, and repeat. And that process – even though it involves buying new products – will be a bit kinder to the planet than buying new shoes every year and sending the old ones to landfill. The shoes retail for $120, and are available now on the Thousand Fell site.
If you buy something through our links, New York may earn an affiliate commission.