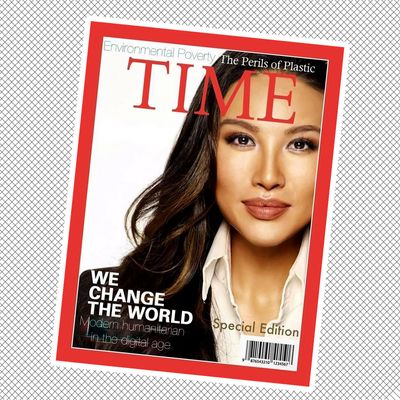 Photo: Mina Chang Videos/Youtube
Mina Chang, the senior Trump administration official who reportedly conned her way into a job at the State Department with an embellished résumé — including an extremely fake Time cover — officially resigned yesterday, after claims that she lied about even more of her background. Chang denied any wrongdoing and called her resignation "a protest and not a surrender" in a strongly worded letter to her boss, Secretary of State Mike Pompeo.
Chang, who became the deputy assistant secretary in the State Department's Bureau of Conflict and Stability Operations in April, may no longer work there, but she will have a place forever in the scammer pantheon. NBC first reported last week that Chang seemed to have heavily padded her résumé with several lies: Her State Department bio said she is an "alumna" of Harvard University and a graduate of a program at the Army War College, despite having a degree from neither. Curious. (On her LinkedIn page, she reportedly mentions University of the Nations, what NBC describes as "an unaccredited school with volunteer teachers.") She said that she has addressed congressional committees (no), and the Republican and Democratic National Conventions (also no).
Chang also claimed that her nonprofit, Linking the World, operates in dozens of countries and "impacts" thousands of people, despite only having a small staff and low-six-figure budget, reportedly with no employees working abroad. In a video interview posted on Chang's YouTube channel, she claims that her organization was lauded for "using drone technology in disaster response" — thus leading to the fictitious, and now infamous Time cover, a beautiful homage to the administration Chang scammed her way into, considering that Donald Trump is also famous for faking his own version and hanging it in his golf club (before it was forcibly removed). "Here you are on Time magazine, congratulations!" the interviewer says in the video, adding that Chang brought the cover with her to their conversation; Time describes it rather cuttingly as "not authentic." My favorite of her escapades remains her 2009 holiday album, discovered by NBC, because what scammer hasn't pivoted to the federal government after a holiday album?
On Monday, NBC discovered even more alleged misrepresentations; Chang reportedly resigned two and a half hours after the outlet asked her spokesperson for comment on them. These include lying about a humanitarian aid trip to Afghanistan in 2015: Chang reportedly claimed that some Afghan women in a photo with her were "in hiding," when they were actually the wives of local employees of the defense contractor that paid for her trip, during which no aid was delivered. Her other inflated claims include "listing an academic who says he never worked for her nonprofit as an employee, claiming a nonexistent degree from the University of Hawaii, inflating an award and claiming to be an 'ambassador' for the United Nations' cultural agency UNESCO," per NBC. (She apparently claimed to have won something called the "CBS Humanitarian of the Year Women That Soar" in 2012. It was actually an award from a local Dallas news station that aired on a CBS affiliate.)
Chang was reportedly being considered for an even more senior position that would oversee a budget of $1 billion, and was given the State Department post in the interim. Her candidacy was withdrawn in September because that job would have required confirmation by the Senate, which asked for more documents to back up her illustrious (fake) career. The State Department has not commented on her resignation.
This article has been updated with more information.