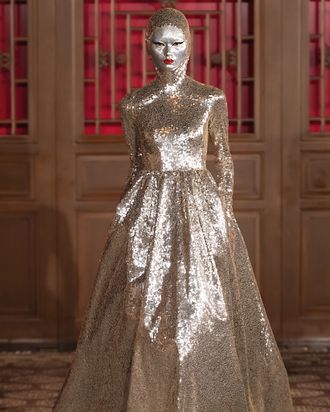 Photo: Courtesy of Valentino
Fashion, as of late, has embraced the glitter facial. A full face of glitter is not the most attainable beauty choice, but it's guaranteed to make an impact. The latest designer to use glitter with abandon is Valentino, at a special couture show in Beijing called Valentino Daydream. The dreamlike quality was certainly present. Several of the models wore glitter on their faces, and even more wore diamond-encrusted facial jewelry or headpieces. The second to last dress on the runway was a silver revelation, complete with a matching balaclava. The look used over 32,000 sequins, and the model's face was glitter-covered, too.
Fashion's favorite makeup artist Pat McGrath was the woman behind the high-wattage makeup looks. She described it to Vogue as a twist on the "silver-screen siren" look. In addition to glitter, models were given a dramatic cat eye and red lip. If you're already doing the most, what's a red lip?
None of the looks on the runway could be described as low-key, although maybe in context they were. Designer Pierpaolo Piccioli used many bows, feathers, and floral prints in addition to the sequins. One green floral dress almost looked like a high-fashion version of the final look from Midsommar. Almost. The whole show was pure fashion fantasy. If you'd like to indulge as well, check out some of our favorite looks below.